Yohn frustrated as he debates multiple motions with judge during hearing; no trial date set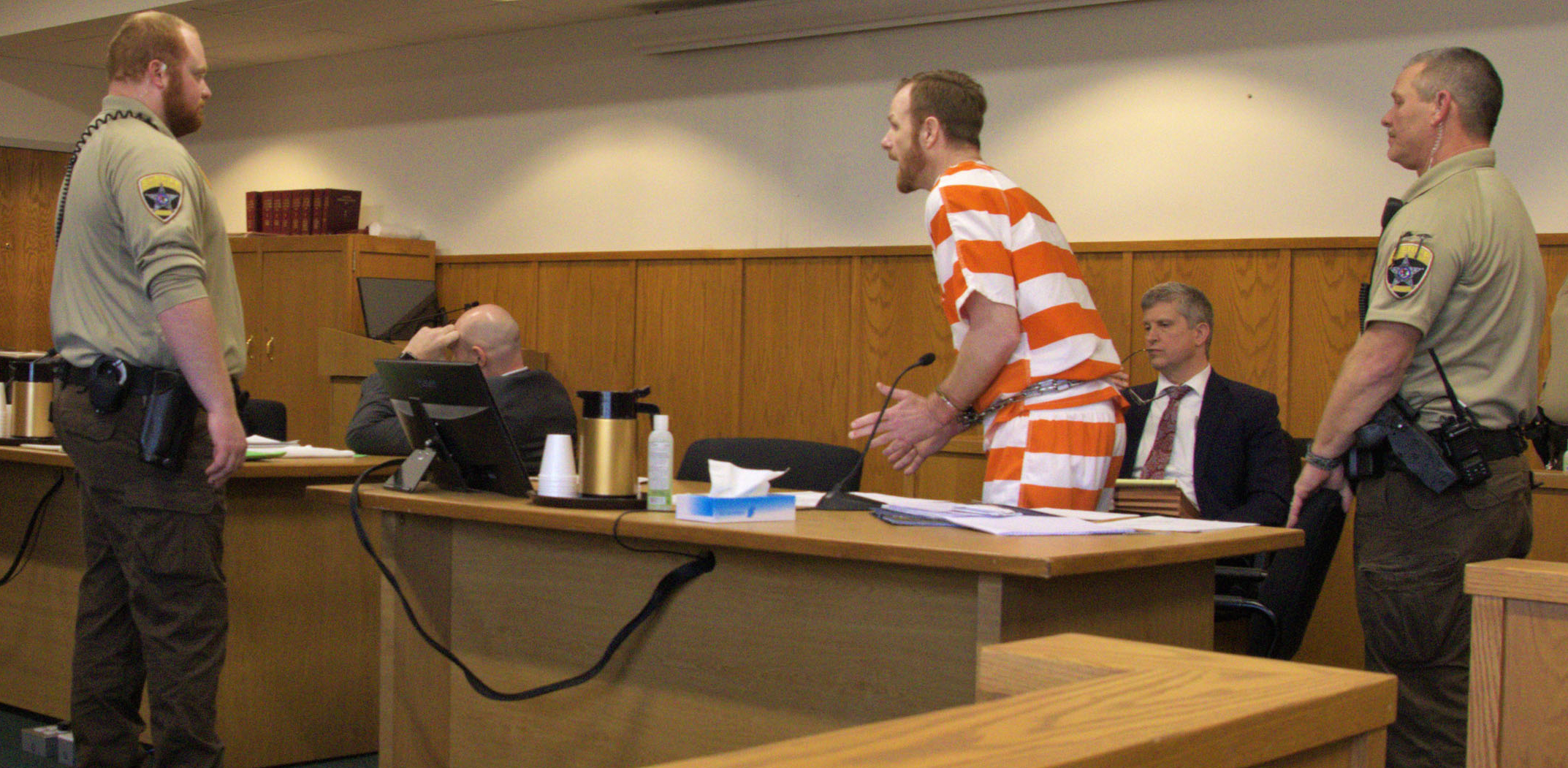 QUINCY — A Springfield man defending himself in a November 2021 sexual assault case complained and argued about multiple motions during a hearing Tuesday afternoon in Adams County Circuit Court, but he left the courtroom mostly unsatisfied after 90-plus minutes.
Bradley Yohn, 35, is defending himself against charges of home invasion, aggravated kidnapping, aggravated vehicular hijacking and aggravated criminal sexual assault with a weapon. He allegedly committed the crimes on Nov. 9, 2021, at the home of Christina "Tina" Schmitt. Yohn could be sentenced to serve between six and 30 years in the Illinois Department of Corrections if he's found guilty of any Class X felony.
Yohn appeared with special counsel Todd Nelson from the Adams County Public Defender's office. There were three bailiffs and two members of the Adams County Sheriff's Department in the courtroom, as well as Adams County Sheriff Tony Grootens.
Judge Roger Thomson started the hearing by addressing a motion to suppress that was filed June 22. When he was arrested Nov. 11, 2021 in Sangamon County, Yohn said he was read his rights and that he understood them, but he "didn't have anything to talk about." When a deputy asked if he would answer questions, Yohn claims he replied, "No, but I'll listen to your questions."
"I told them directly I don't know what you want me to say," Yohn said Tuesday. "I don't have anything to say, I cannot say anything pertaining to this, and I don't even know what you have me in here for."
Assistant State's Attorney Josh Jones told Thomson, "There's nothing to suppress." So Thomson granted the motion.
Yohn winced several times complaining about 'black box'
When Yohn was asked about a motion for disclosure of additional discovery — the first of five motions filed Dec. 21 that were addressed during the hearing — he complained about a "black box" that he was shackled to, preventing him from sitting in his chair and taking notes without wincing.
"This box here is biting me," he said. "I can't even lift my hand up. I'm so tight to my waist, for what reason I don't know. I can't even raise my hands up to write and take notes here. I'm literally in a predicament where there's a box biting into my skin. I wouldn't be surprised if it causes blood to trickle from my arm."
"Mr. Yohn, do your best," Thomson said.
"I can't," Yohn snapped back. "I simply can't."
Yohn then asked Bailiff Chad Downs for help.
"Mr. Downs, can you please flip through these motions for me so I can get to the right motion?" he said.
"Nope," was Downs' reply.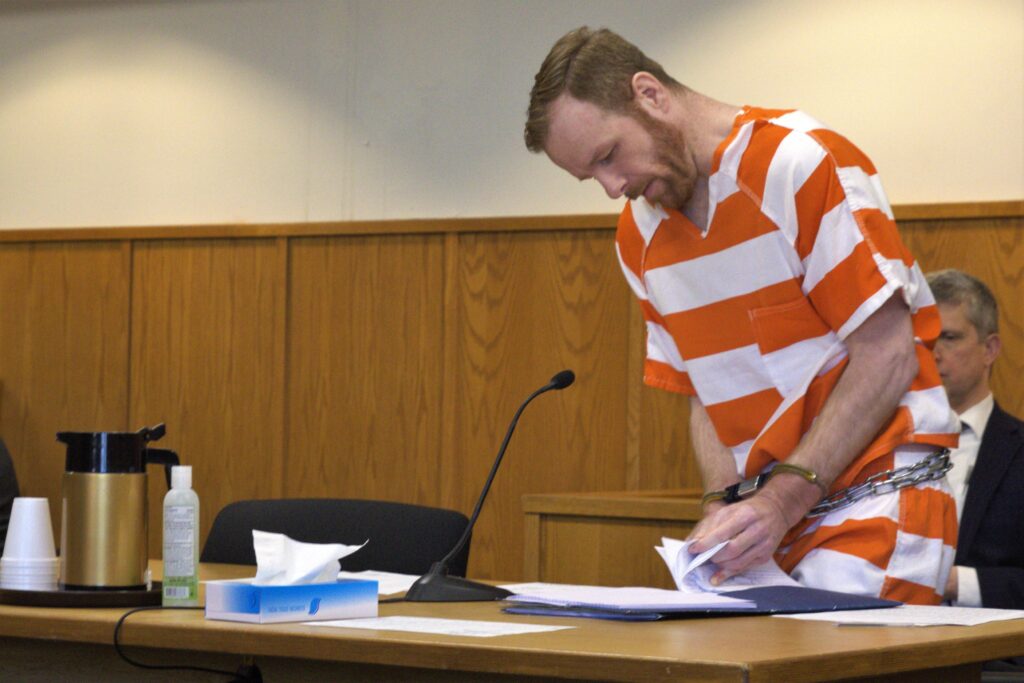 'It's ridiculous that I continue to go through abuse'
Yohn eventually argued for a "full and complete" report of a video from Instant Replay, a local bar, on Nov. 9, 2021. As he struggled to shuffle through his paperwork, he looked a group of reporters in the courtroom and said, "Take a picture of that, media."
Jones told Thomson he turned over a copy of a video taken from Instant Replay that night.
"Mr. Yohn may not like the form that it is in, and he can subpoena (the original video), but there's no hiding the balls or anything like that," he said.
A motion to suppress regarding phone calls from the Adams County Jail and a blood collection kit obtained by Dr. Scott Denton during the autopsy was said by Yohn to "have no relevance to anything in these matters." He also said a comment he reportedly made to officers in the Adams County Jail was found in his discovery from Jones.
"I made a statement about (officers) going and watching a video of theirs or whatever, you know, videos, movies, on their laptops," Yohn said. "They filed a report on me saying that I told them to go watch porn on a laptop or something or other, and then next thing you know that's in my discovery. That is very, very abusive.
"It's ridiculous that I continue to go through abuse in discovery on top of the ill treatment in this jail."
"We simply turned over our investigation," Jones said. "I just spent 10 minutes listening to the defendant complaining about how he's not getting the evidence that he wants, and now he's complaining about us giving him too much. It's not abusive. I'm returning over anything that relates to the case so that Mr. Yohn has a complete record of what we have."
Yohn wants psychiatric history of Blackledge
Yohn then asked for a copy of the psychiatric history of Karen Blackledge, who was allegedly with Yohn on the night he assaulted Schmitt. Blackledge agreed May 5 to serve two 20-year sentences to the Illinois Department of Corrections for her role that night.
"She is very, very ill, and it's notated (sic) in her videos, notated her prior history, notated that she suffers from psychological issues that show her not to be a stable mind and can be easily led," Yohn said. "It could possibly hold relevance to having her completely false and utterly ridiculous statements suppressed."
"When he says, 'I want psychological reports' … well, from who? From where? From what hospital? I don't have access to that," Jones replied.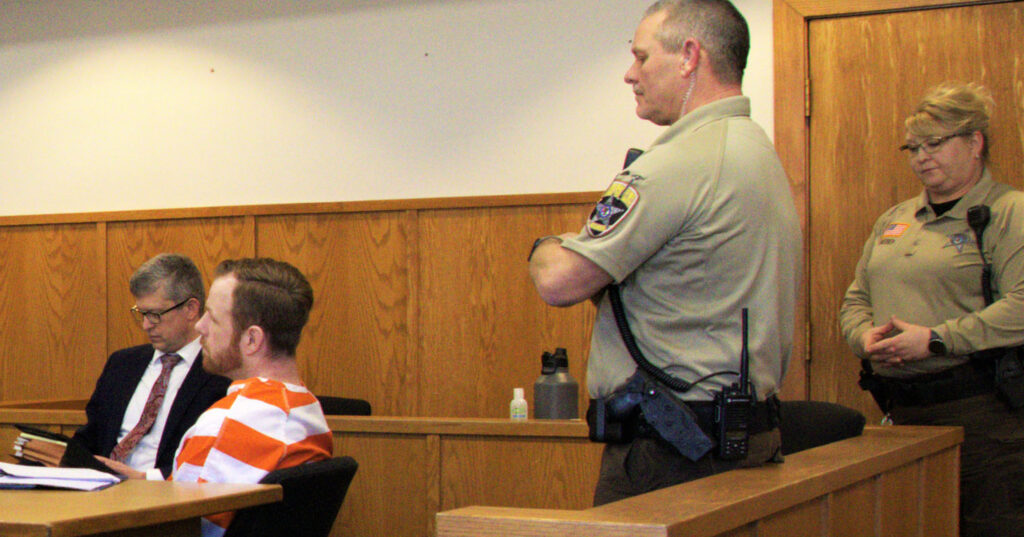 Yohn asks for copies of interview of Schmitt
Yohn asked for the disclosure of an evidence inventory receipt from the search of a home at 1906 E. Carroll in Springfield, as well as an audio recording of an interview of Schmitt on Nov. 10, 2021. Yohn claimed video recordings of that interview are not complete because batteries went dead, and he claims statements Schmitt made are contradictory. Jones said he already has supplied Yohn with two interviews but if a third interview exists, he will get it to him by the end of the week.
As for the evidence inventory receipt, Jones said, "There aren't additional documents for me to turn over, despite his claim. The search warrant issued in Springfield is not in our custody. I don't know what I'm supposed to do."
Thomson said if the receipt exists, it needs to be turned over to Yohn by Feb. 10.
Yohn then wanted to address procedural issues that had been dealt with in earlier hearings. He said he objects to the extended media coverage allowed in his case.
"It's simply a violation of my rights," he said. "I was, in other words, pretty much told to shut up and I cannot address the courts on anything … but in different wording."
Thomson said he earlier ruled on extended media coverage and wasn't changing his mind.
Yohn also complained about the lack of a stenographer at an earlier hearing.
"You don't have a right for a stenographer to be physically present in the courtroom," Thomson said. "She can do that via Zoom. She doesn't have to sit in the same room as us."
Yohn complains about receipt, handling and delivery of documents
Yohn said he has not been receiving copies of documents from court proceedings. He also said he is receiving documents hand-delivered by jail personnel rather than through the U.S. Mail. He believes the information in those documents contains information of personal nature that is in the view of jail personnel.
"I'm the biggest talked-about inmate around here," he said.
He also claims information he has compiled in his defense and kept in a box has been handled recklessly by jail personnel.
"It is an item I have used to save my life," Yohn said of the box of papers. "When officers pull that discovery of approximately 1,900 pages out of the box, they're completely reckless with it. I had one officer drop all the pages, and majority of the pages were in disarray. It took me approximately two hours just to put them back together.
"It's a way of torment, because they know I am specific about things being in order."
He said manila envelopes containing written motions for a change of venue and for relief because of a violation of his discovery rights have not been delivered to the clerk's office.
He said he doesn't always get the five hours per day he is allowed to work on his case, and when he does get that time, it's often in the hours after midnight. He's also forced to work in a small room without a table rather than in the jail's law library.
'I'm a very pleasant individual in this jail'
"Every night, my cell is searched," Yohn said "I don't know what they do. I don't have a clue. Adams County is not honest. Look at Cameron Vaughan. Adams County is not honest by any means."
Yohn was referring to Judge Robert Adrian's reversal of his decision in January 2022 to find Drew Clinton guilty of one count of criminal sexual assault. Vaughan has spoken openly about the case.
"Are there any written motions so that the state could have a chance to investigate and respond?" Thomson asked.
Yohn said yes. Thomson replied, "Put those nine into a motion and we'll get a hearing date for that."
Yohn then complained about "being in the hole" in the jail for the past 12½ months and that it prevents him from effectively defending himself.
"I'm a very pleasant individual in this jail," he said. "And if you pull every correction officer to the side, they will say the same. I'm very, very extremely pleasant. I'm helpful, I'm respectful, and I'm not the person I'm made out to be, your honor.
"So when I react or say certain things, for example, in an insult to me by a deputy just two weeks ago, I'm placed a black box like this. I'm tormented so much that I just can't help it. I've been in the hole the whole time I've been here."
Status hearing set for March 8
As Thomson wrapped up the hearing, he told Yohn, "I'm not going to order the jail to treat you any differently."
When Yohn interrupted him, Thomson said, "I've listened to you for the past 30 minutes. You're going to listen to me now."
A status hearing was set for March 8. A trial date has not yet been set.
Yohn remains in the Adams County Jail on a $15 million bond, believed to be the largest ever set in Adams County.
Miss Clipping Out Stories to Save for Later?
Click the Purchase Story button below to order a print of this story. We will print it for you on matte photo paper to keep forever.