'You sit here remorseless for what you've done': Quincy teen sentenced to 27 years in prison for killing grandfather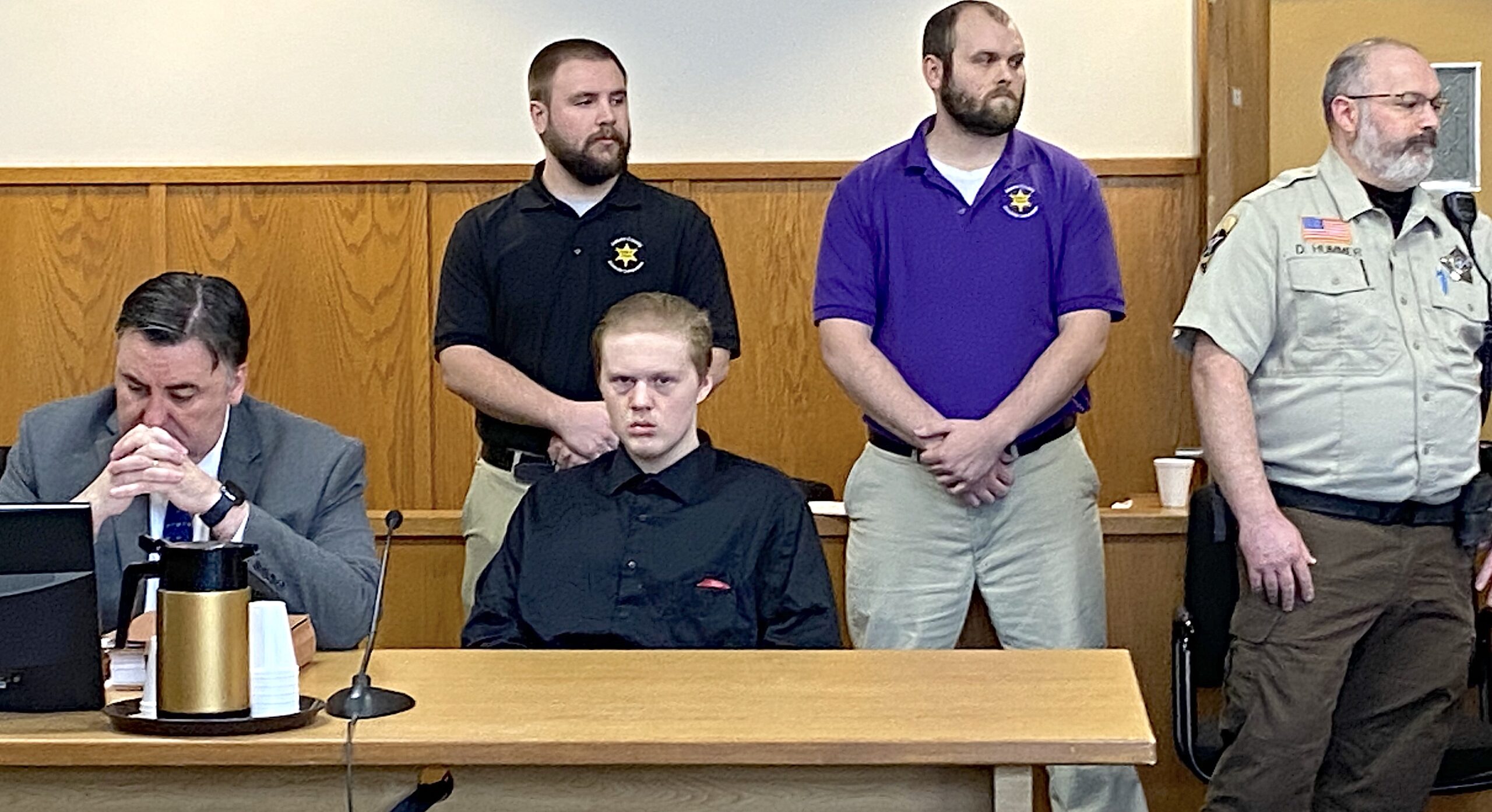 QUINCY — Ryan Schmidt fought through the tears and emotions to talk to his son before he was taken away to prison.
"I am extremely hurt and angry with your actions, Hayden," he said. "As hard as it is for me to do, I have to forgive you, and I still love you."
Appearing before Judge Tad Brenner, Hayden Schmitt pled guilty Tuesday afternoon in Adams County Circuit Court to one count of first-degree murder in the Feb. 17, 2022, death of his grandfather, Robert Schmidt, 67, in his home at 3219 Gross Gables on Quincy's north side. Three counts of first-degree murder, one count of robbery and one count of residential burglary were dismissed as part of a fully negotiated plea.
He agreed to a sentence of 27 years. He will start in the Illinois Department of Juvenile Justice before he transfers to the Illinois Department of Corrections.
Sergeant with Adams County Sheriff's Department first on scene
Hayden Schmitt was stoic as Assistant State's Attorney Todd Eyler read the details of Robert Schmidt's death. The courtroom was full of family members, as well as 16 bailiffs and law enforcement officers.
Eyler said Sgt. Jake McMahon with the Adams County Sheriff's Department was in the Gross Gables neighborhood early on the morning of Feb. 17 when he noticed an overhead garage door was open, a car typically at the residence was missing and an inner door from the garage into the house was open. McMahon went to the home and yelled into the house, attempting to contact anyone in the home.
McMahon then called for additional officers. When they arrived, deputies entered the house and found no one on the first floor. They proceeded to the basement, where they found Robert Schmidt face down in a pool of blood.
Law enforcement officers immediately came up with Hayden Schmidt as a suspect. Officers went to 935 N. Fourth, where they found the vehicle believed to be missing from Robert Schmidt's garage. They also contacted his mother, who told them about a conversation she had with Hayden Schmidt earlier that morning.
Hayden Schmidt, 15 years old at the time, came out of the home on North Fourth and was taken into custody. He was interviewed at the Adams County Sheriff's Department and told investigators he went to his grandfather's house that morning to get guns. Robert Schmidt found his grandson in the basement, and Hayden Schmidt admitted to investigators he hit him, knocking him to the floor.
"Then, as (Robert Schmidt) was trying to get up, Hayden told the deputies he struck his grandfather again," an emotional Eyler said.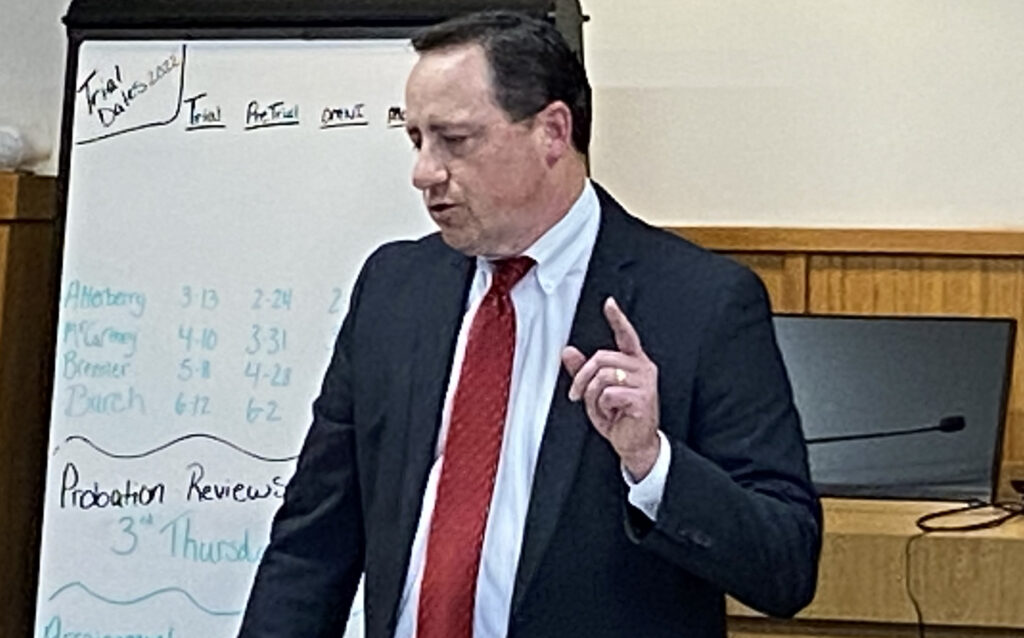 Father, aunt give victim impact statements in courtroom
Eyler said Hayden Schmidt gained entry to the home by kicking in two doors in the home.
Ryan Schmidt and Lacey Schmidt, Hayden Schmidt's aunt, gave victim impact statements during the sentencing hearing. 
Lacey Schmidt said she spoke to honor her father. She said she misses talking with her dad about food, the Chicago Cubs, funny things her dogs did and Midwest weather.
"I miss the sound of his voice, the one I often teased him about with that Missouri accent when saying certain words," she said. "I miss his laughter and infectious smile, and I'm thankful for the great honor of being his daughter.
"Your heinous actions have shown the vicious parasite you are. I don't dare speak your name. … You committed a cold, calculated and evil crime. You looked your grandfather in the eye and attacked him, up close and personal, with multiple blows to his head, then you left him there to die. There is no sentence long enough for you to pay for your actions. You sit here remorseless for what you've done. I will never forgive you for your action."
'This is just a huge slap in the face'
Ryan Schmidt said he still believes redemption is possible for Hayden.
"Your grandfather, grandmother and several other people taught you who Jesus was and what was right," he said. "I made my fair share of mistakes. We tried to give you a good life, and we loved you. This is just a huge slap in the face.
"The actions you took have consequences, and you're going to have to deal with it. You're going to have to live with this every day. … I hope you turn your life around and learn something in there."
Eyler then read statements from Kevin Dodd, Hayden Schmidt's great uncle, and two of Robert Schmidt's sisters — Karen Watters and Sharon Humphrey.
"In my years as both a police and private detective, I have never known of a more heinous crime," Dodd wrote. "You are extremely fortunate that you committed this crime in a state that does not allow capital punishment."
"Even though this court session today is not a trial with evidence presented. I know what happened on February 17, 2022," Watters wrote. "I know that you are responsible for your grandfather's death."
As Eyler read Watters' statement, Hayden Schmidt quietly shook his head.
Eyler commends work of Adams County Sheriff's Department, Quincy Police Department
Eyler also took a moment to commend the members of the Adams County Sheriff's Department and the Quincy Police Department for their work on the day of the murder and throughout the investigation.
"That was pretty amazing to watch," he said. "When this happened a little over a year ago, we had a major blizzard being dumped on us. It was not at all ideal conditions. Those officers were trucking through the snow and driving around and surrounding houses and standing out to solve this crime. We are lucky in this county to have the officers we have."
Hayden Schmidt declined to give a statement of allocution. As bailiffs led him out of the courtroom, he mouthed the words "I love you" to family members in the front row.
He must serve 100 percent of his sentence and pay $22,514 in restitution. He was credited with spending 382 days at the Adams County Juvenile Correctional Center.
Devere Gholston, an alleged accomplice in Robert Schmidt's death, faces the same charges as Schmidt — three counts of first-degree murder, all Class M felonies punishable for between 20 and 60 years in the Illinois Department of Corrections, as well as one count of residential burglary and one count of robbery. Gholston allegedly was in the vehicle that drove Hayden Schmidt to the house.
Gholston is in the Adams County Jail on $10 million bond. His case recently was stricken from the January jury docket. The next hearing in his case is March 21 before Brenner.
Miss Clipping Out Stories to Save for Later?
Click the Purchase Story button below to order a print of this story. We will print it for you on matte photo paper to keep forever.