'These veterans are the backbone of our country and our freedom': Center woman recognized for work with Great River Honor Flight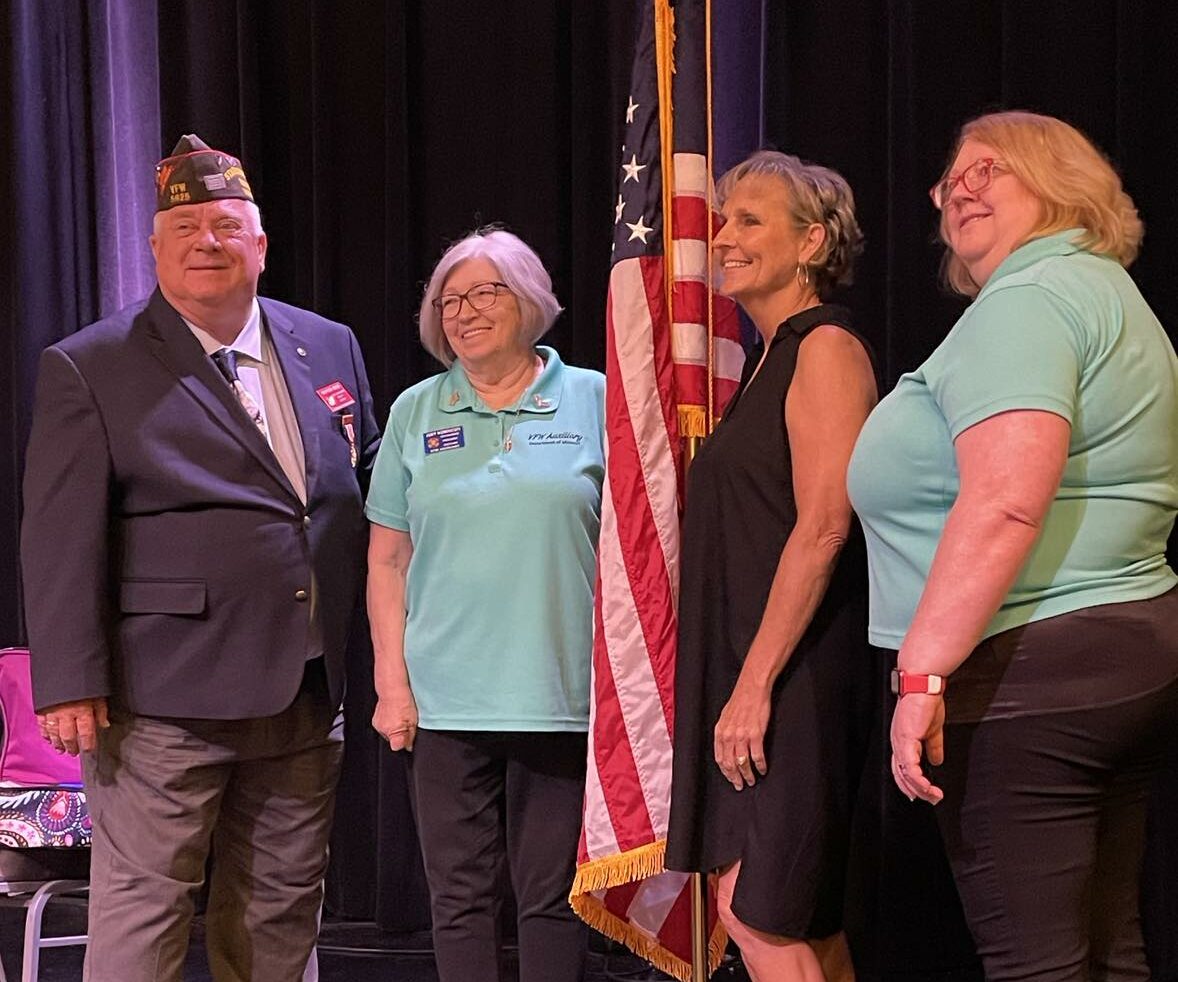 CENTER, Mo. – Sharon Lake, of Center, Mo., always considered herself patriotic, but she got a new perspective when her son joined the Air Force in 2002.
Lake's son, Michael Copenhaver, served in the U.S. Air Force for 10 years before retiring as an aircraft hydraulic systems specialist in 2012.
Copenhaver's service ignited Lake's patriotism into a passion that has fueled six years of service to the Great River Honor Flight, which offers veterans a free one-day trip to visit memorials in Washington D.C. Since its inception in 2009, the Great River Honor Flight has transported more than 2,000 veterans to Washington D.C.
Lake is the vice chair on the Great River Honor Flight Board of Directors. She has been a guardian on four flights and helps plan and attend homecoming celebrations. She and her husband John Lake, presiding commissioner of Ralls County, also host an annual side-by-side poker run with all proceeds going toward future flights.
The sixth annual Ralls County Honor Flight Poker Run on Oct. 14 will begin at the Lake farm in Center. The event usually draws around 500 side-by-sides each year, and the ride goes along county roads and private trails with permission. A barbeque and raffle for prizes take place at the end of the trip at the Lake farm.
The event has brought in around $45,000, with a record year of $17,000 in 2020.
"Out of all the organizations I've worked with, working with the Great River Honor Flight is the most humbling and the most rewarding thing I've ever been a part of," Lake said. "These veterans are the backbone of our country and our freedom. They have seen hell, and they deserve all our respect and our thank you's. They are tough."
When Copenhaver first joined the Air Force, Lake fought difficult inner battles herself. She was proud of her son's service, but when he deployed to several places, including Iraq and Afghanistan, Lake wished it was anyone but him.
"I was happy he was going the military route, but then the problem started. He was getting shipped over, and I didn't want him to go," Lake recalled. "I wanted our country to be defended, but I didn't want him to have to be part of it. I hated it every time he was there."
It all changed in 2007 at a banquet in Washington D.C. when Copenhaver was honored as a winner of the Air Force Lt. Gen. Leo Marquez Award as the aircraft maintenance technician of the year.
When the room exploded into the Air Force anthem, "Wild Blue Yonder," Lake could hear his voice ringing in the crowd, which was highly unusual for her son.
"In school, he always just took music for the easy credit, and even then he never sang. He'd move his lips, but it was obvious he wasn't singing," Lake said.
She grew up with brothers who served in the Navy, but that night gave her a new perspective.
"It was great to write letters and mail packages of cookies, and it was exciting when they came home. I grew up and had children, all the while feeling I was patriotic. Then 911 happened. And I surely felt patriotic," she said. "But still I didn't get it."
That's when she understood. The sacrifice her son and so many others made when they served was from a deep place of passion and love for their country. With goosebumps forming on her arms, Lake realized her son was a proud member of the U.S. Air Force.
"I turned around to him belting out the song, and that's when it hit me. This boy is Air Force. I get emotional even thinking about it now," she said.
Lake recently won an award herself for her service to the Great River Honor Flight. Lake has always had a heart for volunteering. As a young girl, she was the unofficial welcoming wagon to the tiny Oklahoma town she grew up in.
"If anyone new came to town, I would invite them over for coffee," Lake said. "My parents love meeting new people, but I wore them out sometimes."
The passion for serving others grew when she was in high school and became a candy striper, volunteering her time at the local hospital filling waters and getting them whatever they needed.
"We read to them, talked to them, and just kept them company," she said.
Her servant heart now beats strong in the Ralls County area, as she helps bring together several events each year. One is Run on the River a kayaking event down Salt River starting at The Meadow Campground and Coffeehouse near New London, Mo.
The first three years of the event supported various causes, but is now dedicated to the Cole McDonald Impact Project. Lake created in honor of the late Cole McDonald who was an entrepreneur and inventor at an early age. Proceeds from Run on the River goes to chosen applicants with a business, invention or idea to impact a family or the community. In 2022 the event raised $6,555.
Her patriotism also fuels her to passion for serving others.
She was the recipient of a patriotism award at the VFW State Convention on June 9 in Springfield, Mo. Lake was nominated by Jo Ann Diffenderfer, the State of Missouri VFW auxiliary patriotic instructor for 2022-23. Part of her duties were to choose someone extra patriotic to award with a flag and stand.
"I picked Sharon because of her volunteering with a Great River Honor Flight and all that she does for veterans throughout the year — not just once, but every time I'm on a flight, she goes," she said. "The poker run has raised more than $45,000 just for veterans. It's amazing for someone in this area to do such big things. I was happy to present her with the patriotic instructor flag."
Follow the Great River Honor 6th Annual Ralls County Honor Flight SXS poker Run to find out more about the event.
The Great River Honor Flight has two more already-filled flights for the 2023 scheduled for Sept. 14 and Oct. 19. Guests can welcome the veterans home. Information on homecoming events and applications for 2024 season flights veterans and guardians can be found on their website.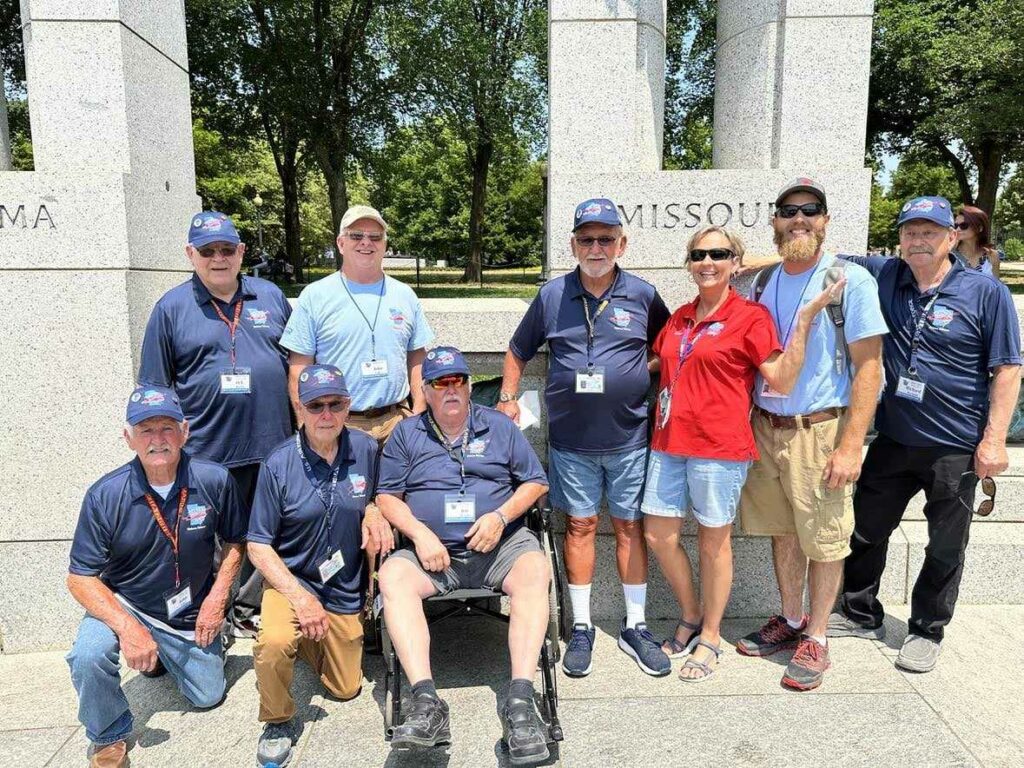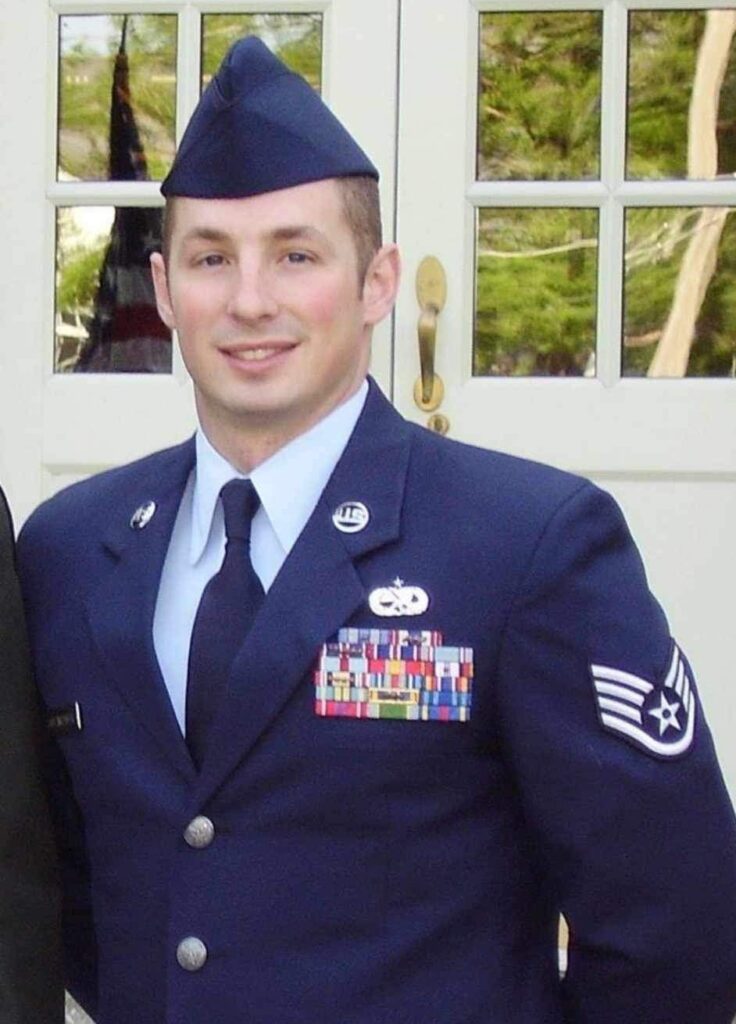 Miss Clipping Out Stories to Save for Later?
Click the Purchase Story button below to order a print of this story. We will print it for you on matte photo paper to keep forever.