Former track star brings innovative athletic performance business to hometown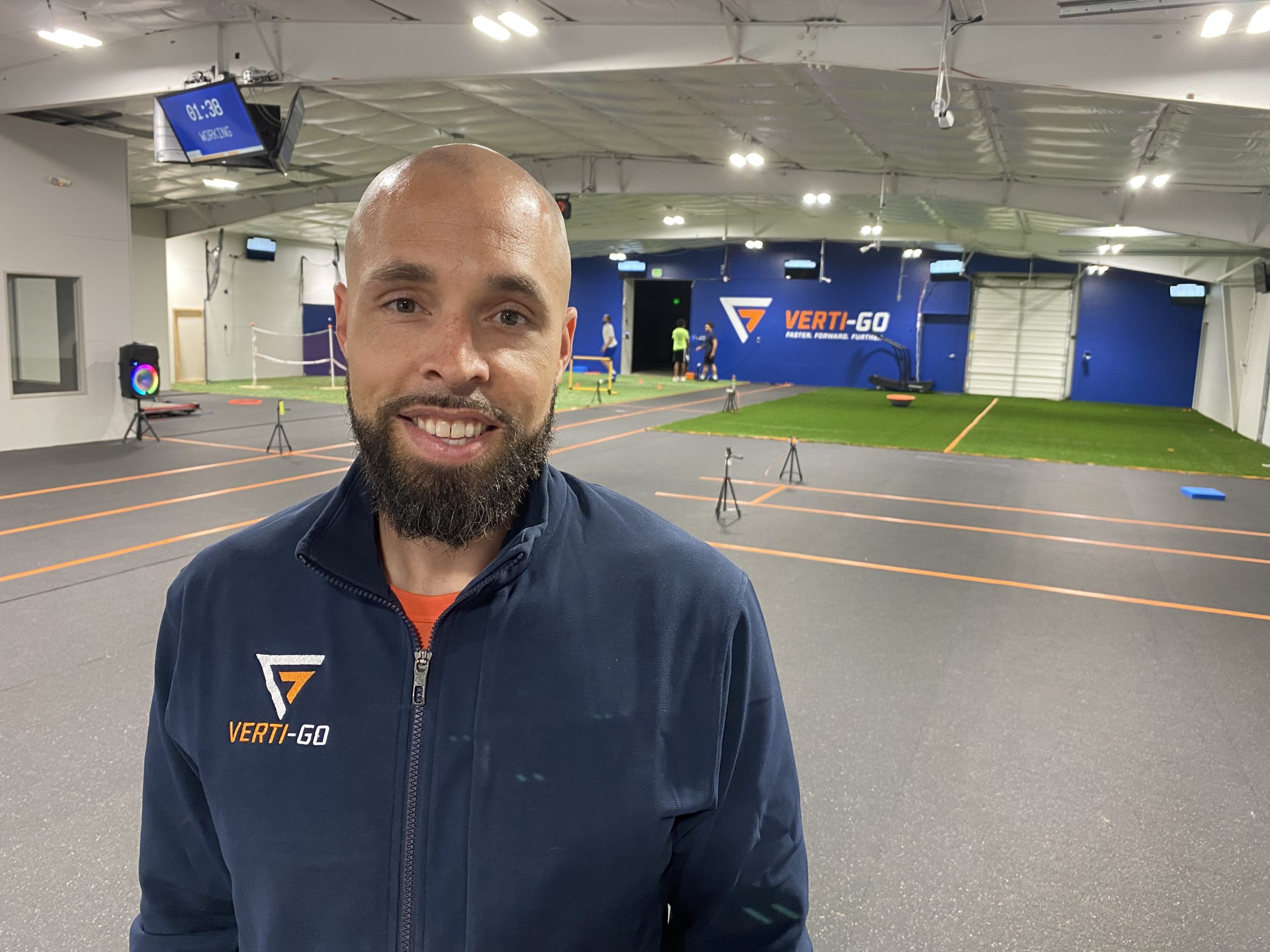 QUINCY — Tony Douglas walked up to an athlete working out at the Verti-Go complex and asked how he was feeling.
The athlete replied he was doing well but his back hurt a little bit because he had done squat lifts earlier in the day.
"Here's an athlete who wants to play basketball, which means he has to learn to be on his toes, and he's doing squats, which are done properly by driving through your heels," Douglas said. "I want him to be able to touch a 10-foot rim, not lift 300 pounds.
"Here's a perfect example of what we're trying to fix."
Douglas, 38, a former track star and basketball standout who graduated from Quincy High School in 2001, has established his athletic performance business in his hometown. He opened his first Verti-Go in Des Moines, Iowa, five years ago, and his latest venture started earlier this month at 2306 N. 12th.
His goal is to transform the way athletes prepare and train for sport.
Finding the most efficient way
"We work on speed. We work on jumping. We work on body control mechanics," Douglas said. "If you ask a basketball coach about what's happening on the floor, most are going to say their players are dribbling, shooting and passing. How I interpret what's going on is we're balancing, we're reacting, we're changing direction. But those skills don't get worked on. Those skills are just assumed.
"Does anybody ever teach kids how to run? Many people run the incorrect way. I'm going to show you the most efficient way."
Douglas does this with a series of skill development activities that are captured on video. An athlete's accomplishments are recorded and compared with other athletes across the state, across the nation and, most important, against themselves. More than 600 athletes train at his Des Moines facility, and he has more than 30 in his first month in Quincy.
"We work with everybody," he said. "Some of the top athletes in Iowa work with us, and I also have a 6-year-old who comes to work out with his dad. We call ourselves performance specialists. What about that kid who is a good shooter, a good passer, has good knowledge of basketball, but he can't jump and he struggles to guard people? Developing that athletic skill is the most important thing in his situation.
"Throwing a kid on a soccer field or a basketball court at 6 years old without teaching them the proper mechanics for how to run is like throwing a kid in the pool without teaching them how to swim. Soccer players run 80 to 90 percent of the game, but how much of their skill development is spent on running?"
'I wish I had this when I was younger'
Douglas was an elite athlete growing up in Quincy. He won the Class AA state championship in the long jump and was third in the triple jump as a senior in 2001. He also was an all-Western Big Six Conference selection on the basketball court, averaging 10.2 points per game as a senior.
At Iowa State, Douglas was a three-time NCAA Division I track championships qualifier and a two-time honorable mention All-American in the long jump. He also received All-American honorable mention in the triple jump. Eleven times an all-conference performer, Douglas was twice the runner-up in the long jump at the Big 12 championships.
He was a broker counselor for the Principal Financial Group for several years before he decided it he wasn't passionate about that line of work.
"Sports is my passion," Douglas said. "I just had the ambition of doing something more."
Douglas now shares his time between Quincy and Des Moines. When he's not in Quincy, his father, Jerry, is taking care of the business, but technology allows him to stay up to date and talk remotely with any of his athletes by a simple swipe of the phone.
His knowledge of athletic movement and training makes Douglas wonder how he could have helped himself when he was competing at Iowa State, where he constantly battled injuries.
"I can now actually pinpoint why I was hurting my hamstrings," he said. "I was dealing with hamstrings and hip flexors, all running-based things. Most people rehab it, fix it and then send you back out there. We do the same thing over and over again. Then we get frustrated, and doubt starts to seep in. We didn't change anything.
"I wish I would have had this when I was younger. We just have a lot more technology and more tools to help someone now. A lot of trainers are still using old school techniques. It's like someone's using a landline phone while driving an old car, and my business is using the latest iPhone and we're driving electric cars. We can do some pretty cool things and give people the support they need."
Miss Clipping Out Stories to Save for Later?
Click the Purchase Story button below to order a print of this story. We will print it for you on matte photo paper to keep forever.