Louderman garners support from State Senate majority leader at mayoral campaign launch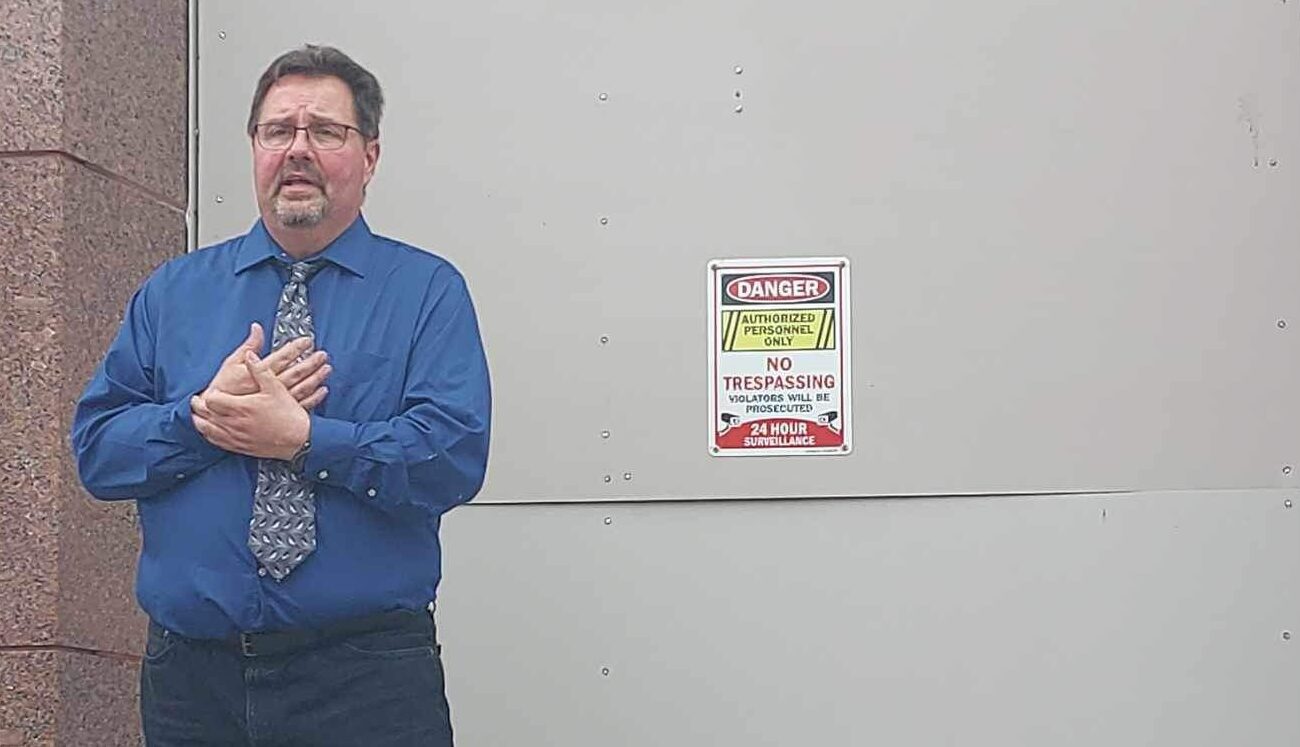 HANNIBAL, Mo. — When Barry Louderman, launched his mayoral campaign Wednesday afternoon in front of the former St. Elizabeth's Hospital, he said he had a reason.
Louderman said St. Elizabeth's "was once the jewel of Hannibal." He told the group his late wife Betty worked there in the wound and diabetic center for Hannibal Regional Hospital.
The building, now dilapidated, was built in 1915 with additions over the years. Hannibal Regional Hospital moved its primary operations out of the 109 Virginia location in 1993 and it was added to the National Register of Historical Buildings in 2012.
"How many people were born here or worked here?" The architecture inside is wonderful. Yet here it sits, broken windows, boarded up. How many people have tried to do something?
"If the city has to pay to tear this place down, it will cost millions of taxpayer dollars. That is money that will come from the city," he said.
During his speech, Louderman asked State Sen. Cindy O'Laughlin (R-Shelbina) to put St. Elizabeth's Hospital on the forefront, referring to the state's approval of needed tax credits which was recently vetoed by Gov. Mike Parson.
In a conversation with Muddy River News on Monday morning, Louderman explained Parson likely used the legislation to prove a point to legislators to stop bloating bills with various attachments.
"Although the tax credit was not considered bloated because it's going to a good cause, they attached it to something," he said. "I am hoping Sen. O'Laughlin can convince the Governor to approve it next time instead of throwing it in as a blanket veto."
St. Elizabeth's, according to Louderman, is one of more than 600 buildings in need of attention on Hannibal's demolition list or rehab list.
Louderman also pledged support to the police department and fire department, and to increase workers at the Hannibal Street Department which currently has only nine employees.
He also addressed the need for members of the Hannibal City Council to work together to move the city forward.
"Every city council meeting you need to be up there thinking about how you are going to make the city better," he said. "The days of bickering back and forth about little things must end."
Louderman explained his that position as a conservative will not hinder his ability to work with everyone.
"To make things work, you have to bring everybody together. That's what I do. I am very good at bringing people together," he said.
O'Laughlin said she endorsed Louderman because of his experience on the council and his desire to work hard and make wise decisions with a willingness to hear suggestions. She added she also believes conservative leadership is right for Hannibal.
"This is a mostly conservative town and people here support a conservative philosophy," O'Laughlin said. "They support life, guns and the things that matter to the people here. I think Barry stands for those things.
"The conservative view and perspective is that you don't spend more money that you have. What you do have you spend wisely because it's the taxpayers money and you want a good turn on that investment," she said.
Former State Rep. Lindell Shumake of Hannibal was also present to support Louderman. He agrees Louderman's experience on the council and understanding of the ins-and-outs of government makes him a good choice.
"He has an idea of what the city needs to address and that he will foster a spirit of cooperation too. He wants to see everyone get along yet do the right thing financially for the city and all of the departments to do that," he said. "I believe he is the man to do that."
Mayor Pro Tem Mike Dobson said Louderman is a conservative who he shares many viewpoints with.
"Barry and I served on the council together for about eight years, and he has a lot of good ideas going forward," Dobson said, then pointed to the dilapidated building behind him. "One of them we are standing in front of."
When Dobson replaced former Mayor James Hark who resigned in June, Dobson speculated he might run for the position but decided against it.
"When Barry's name came up, I decided to back him instead of run. I thought we could work better as a team," Dobson said.
Click here to learn about Louderman's plans to work with the area schools to increase local workforce, bring an Amtrak station to Hannibal, and increase the runway at Hannibal's airport by 500 feet.
Miss Clipping Out Stories to Save for Later?
Click the Purchase Story button below to order a print of this story. We will print it for you on matte photo paper to keep forever.