'Your action indicated civility wasn't necessary': City treasurer castigates aldermen for tabling vote on pledge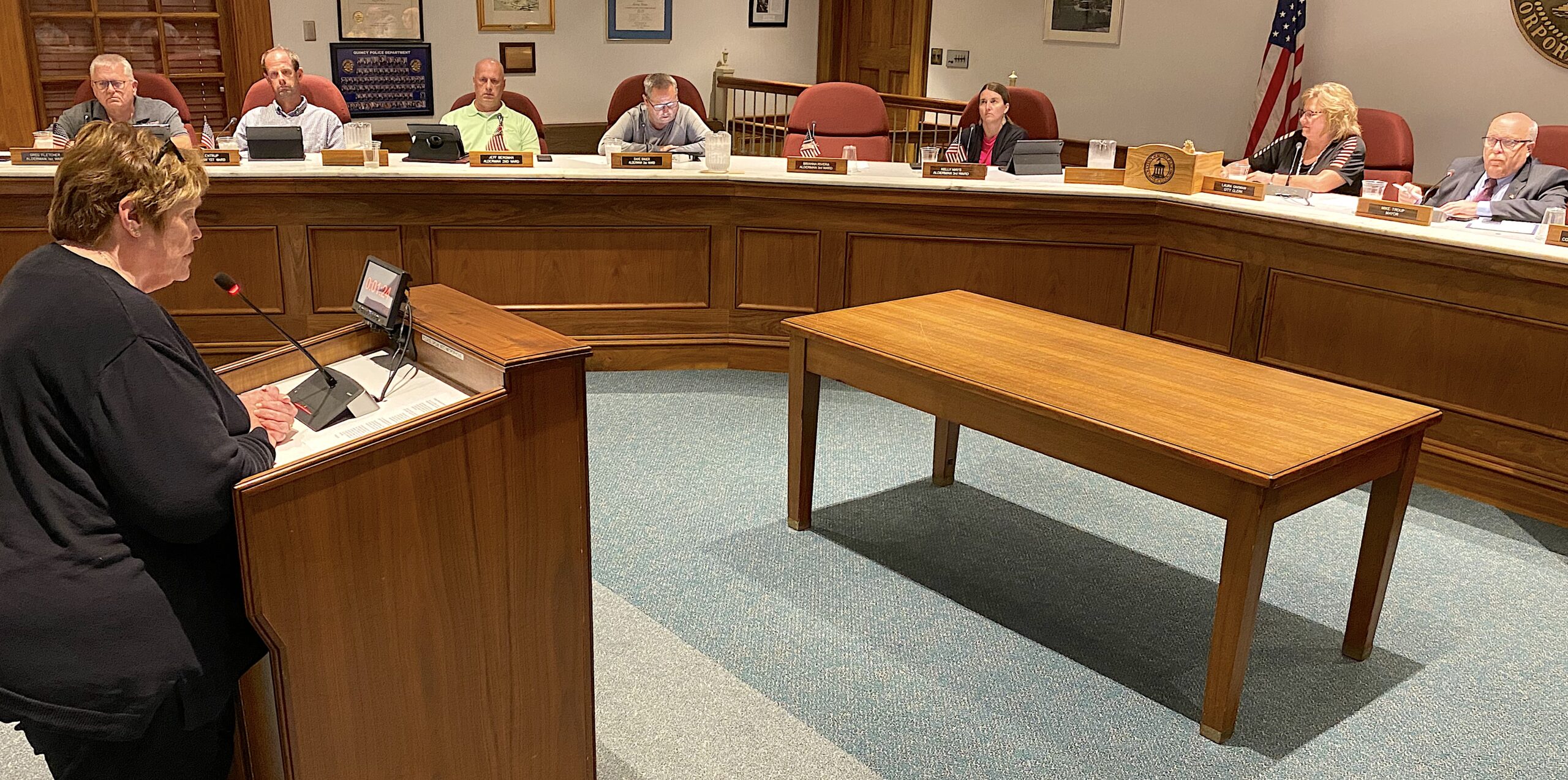 QUINCY — City Treasurer Linda Moore took advantage of the public forum at the beginning of Monday's Quincy City Council meeting to chastise aldermen for tabling the vote on a resolution to adopt a pledge of civility at their Aug. 28 meeting.
"We were elected by the people to lead them as elected officials," Moore said during a three-minute speech. "I believe it is our duty to lead our community and to set an example of the behavior we expect of others. Citizens of our community are watching. They're listening. They're seeing our actions. We all know actions speak louder than words.
"By tabling the resolution, your action indicated civility wasn't necessary."
Moore said "a number of people throughout the city" approached her last week and asked her to address the City Council.
"Some Republicans, some Democrats, some independents," Moore said afterward of the people who talked with her last week. "They saw Monday's meeting and said, 'What the heck?'"
The resolution put forth at the Aug. 28 meeting said the Illinois Municipal League has adopted a civility pledge which states, "In the interest of civility, I pledge to promote civility by listening, being respectful of others, acknowledging that we are all striving to support and improve our community and understanding that we each may have different ideas for achieving that objective."
The resolution went on to say, "To publicly declare a commitment to civil discourse and to express concern for the common good and well-being of all residents of the city, the mayor and the City Council have determined it to be in the best interests of the city to adopt this resolution."
Three of the 10 aldermen in attendance that night said they couldn't support the measure.
"I think as a body, if we get into a heated discussion over something, I call that democracy," Greg Fletcher, R-1, said last week. "I'm not going to sit here and just hold my hands, talk low and bob my head up and down. Sometimes we have it out. So I can't support that."
Quincy Mayor Mike Troup said last week the intention of the pledge was aimed at city employees who have dealt with customers who have cussed them out after their water or utilities were shut off. However, Mike Farha, R-4, said the citizens and people doing the yelling aren't the ones signing the pledge.
"I think we're putting employees in a bad position," Farha said. "I don't think that the explanation you're giving would make the situation any better. I think it would escalate the situation. So I can't support this."
Jeff Bergman, R-2, also spoke up against the pledge last week.
"I'm not here to make friends. I'm here to get stuff done," he said. "I'm here to help my neighbors. I'll work with everybody as I have in the past and in the future to make sure that I accomplish that. At the end of the day, this is an unnecessary step."
Several others remained silent until a motion to table the measure was voted on.
Moore said in her speech many of the aldermen already practice civility in most of what they do.
"That was an opportunity for us as leaders to show our public that we're going to put our words and our actions together," she said. "If this body can't endorse a simple civility pledge, how can we expect our landlords to be civil to their tenants? How can we expect our customers to show civility to our employees? How can we expect our children to show civility to our seniors? How can we expect our residents to show civility to public safety officers?"
Moore said some aldermen have signed the pledge, and she said she has as well. She asked the rest of the aldermen to sign it.
"Let's change the negative political culture by endorsing and encouraging civility throughout our community," she said. "We have so many other problems to solve. Let's work together. Let's listen to each other. Let's collaborate, resolve our issues and work together to solve our problems. We can do this, but it takes a commitment of all of us.
"I'm asking you to lead, follow or maybe just get out of the way."
Miss Clipping Out Stories to Save for Later?
Click the Purchase Story button below to order a print of this story. We will print it for you on matte photo paper to keep forever.