Aldermen vote to allow memorials in city right-of-way, but Quincy woman perturbed with new rules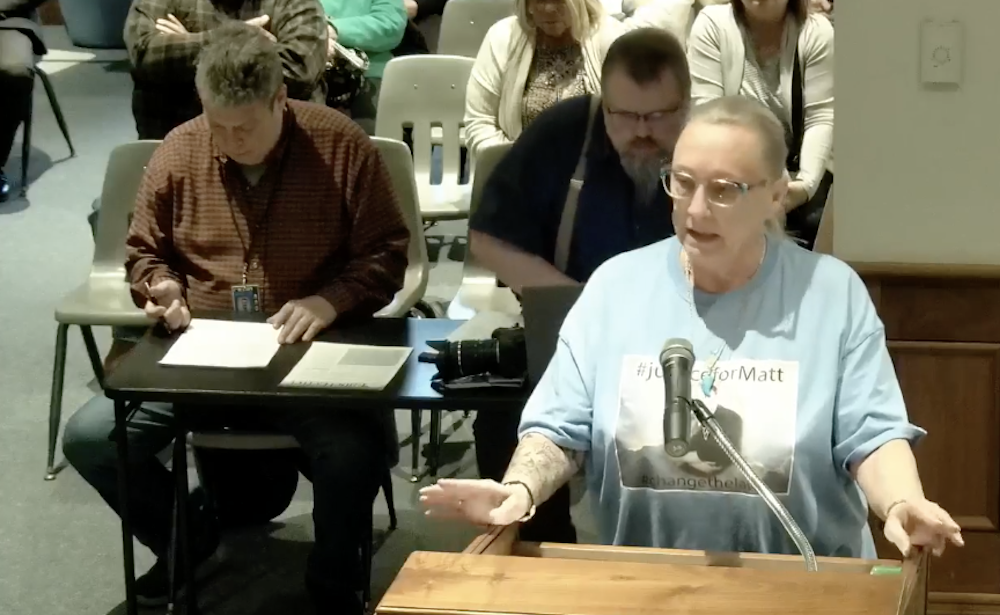 QUINCY — The Quincy City Council approved Monday night a petition for a revocable permit allowing for the encroachment of the city right-of-way with temporary memorials.
However, Stacie Sparks, who first brought the issue to aldermen on April 17, still isn't happy.
The petition was created by Assistant Corporation Counsel Bruce Alford and submitted to aldermen by Jeffrey Conte, director of public works. It offered nine conditions to be followed, with the requestor of the memorial accepting responsibility for maintenance or damage at the site. The city may remove the memorial if the site is not maintained or if it restricts visibility or creates a safety hazard.
The petition called for the site of the memorial not to be larger than 2 feet by 2 feet, and it cannot be taller than 2 feet. It also called for the permit to expire six months after receiving City Council approval, but Alderman Mike Farha (R-4) asked to amend the petition to allow the permit to be in place for 12 months and be renewed annually. Aldermen unanimously approved the change, then unanimously approved the amended petition.
City crews removed Sparks' memorial for her son at the northeast corner of 30th and Maine 11 days ago. She doesn't believe the memorial should have a time limit.
"I can respect the rules for the size and the distractions and all that," she said after Monday's meeting. "Our (memorial) was tasteful and small. A memorial should be an exception to yard sale signs and Dogwood parade signs and all that. These should be separate. We shouldn't have to beg to memorialize our family."
Ted Awerkamp, owner of Quincy Cleaners at 3001 Maine, sent an email on April 12 to Third Ward aldermen Kelly Mays and Brianna Rivera asking what the city code is for memorials in a city right-of-way. City crews came by the intersection the next day and removed a memorial for Sparks' son, Matthew Ballard, who died on March 24, 2021.
Harrison Hardimon was fleeing law enforcement while under the influence of amphetamines when the 2014 Ford Fusion he was driving collided with a 2006 BMW driven by Ballard, 42, at 30th and Maine. Ballard died at the scene. His mother erected the memorial shortly afterward.
Sparks wore a "Justice for Matthew" T-shirt when she addressed aldermen on Monday.
"I never in a million years thought I'd have to bring out the shirt again to defend my dead son over something so trivial as a memorial," she said. "People should be fired for this. This is absolutely ridiculous. However, I'm willing to compromise whatever it takes. I might not put anything else out there. For somebody to tell me where and when and how long I can mourn my children is ludicrous.
"I'm at peace with whatever you all decide, because my son is still in my heart, and he's in millions of other hearts. … That is where my son died. That's where I go mourning because that's where his last breath was. If you (aldermen) feel you want to step on that, then step away, because you're messing with the wrong girl. I'm stronger than any of you. … For what I've been put through this last week and half over this, damn you."
Alford said many of the conditions in the petition dealt with visibility so the memorials wouldn't be a distraction to drivers. He said people maintaining similar memorials throughout the city should contact the engineering department and request a permit for the encroachment of the right-of-way.
Before aldermen voted on the amended petition, Farha addressed Sparks.
"We all suffer loss, and we all suffer the loss of a loved one," he said. "And we mourn differently. Some people just drop it. I can speak. Honey, I get it. Eight years, I've mourned someone. I cannot imagine what it is (like) to mourn a child. And when you had that child, I'm certainly you passed through the valley of the shadow of death. I get it. God bless you."
Despite the vote by aldermen to allow memorials, Sparks wasn't happy that she now needs to ask for annual approval.
"Now I have to go to (aldermen) and ask them, 'Hitler, may I? Can I still do this?'" she said. "It's just gotten so out of hand. My nerves are shot. My stomach's been a mess. Damn them for putting me through this.
"I think everybody but (Chuck) Bevelheimer (director of planning and development) and (Jeff) Mays (director of administrative services) thinks this is the most ludicrous thing they've ever brought across the desk. Maybe not. I'm sure there's probably a world full of idiots, but I don't feel like I'm an idiot. I'm just wanting more than what was done."
Miss Clipping Out Stories to Save for Later?
Click the Purchase Story button below to order a print of this story. We will print it for you on matte photo paper to keep forever.