August is over, and the answer on Troup's decision to run for re-election as Quincy's mayor is …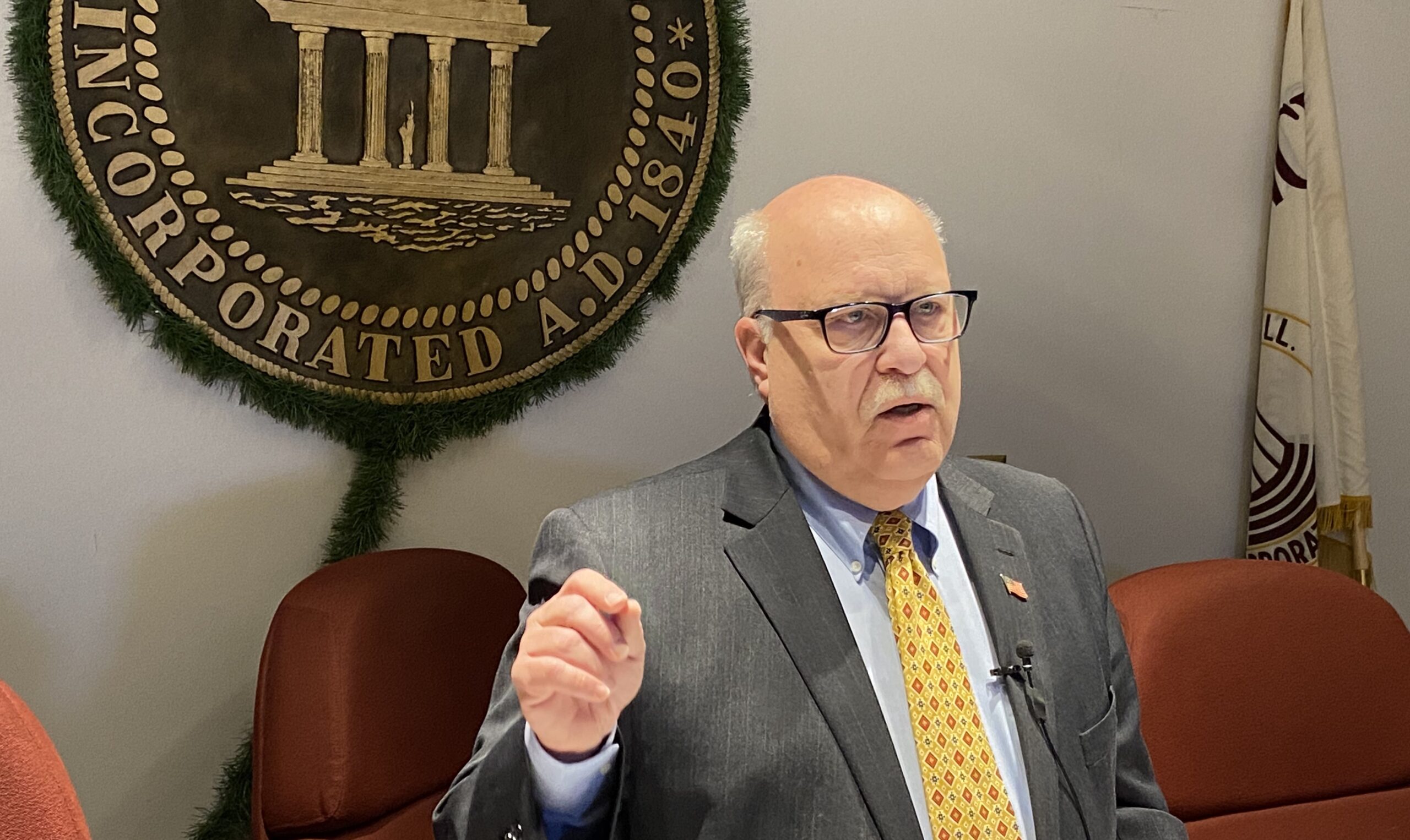 QUINCY — Quincy Mayor Mike Troup said in July he planned to announce his decision about running for a second term "sometime in August."
Well, it's Sept. 1, and Troup has finally given a response about that decision.
"I think this has taught me to tell people I'm not going to set a deadline for myself on a decision like this," he said with a chuckle during a Thursday afternoon interview — only a few hours before the midnight hour on the final day of August.
"I haven't made a final decision," he said.
The next municipal election is in the spring of 2025. Troup set his own deadline during a July appearance on "Spilling the Tea with Steve Kennedy," a Quincy Tea Party-sponsored show on Rumble, an online video network. He then told Muddy River News in a subsequent interview that he wanted to consult with his wife, Sharon, before deciding.
He says he still has other people he wants to consult.
"I have a list of people I wanted to talk with (in August)," Troup said. "I haven't got to all of them yet, so I'm still in that review place."
Before becoming mayor, Troup was a small business owner for 22 years and spent 15 years as chief financial officer for several international companies. The lifelong Quincyan also previously served on the Quincy Public Schools Board of Education, was chairman of the Adams County Ambulance and EMS Board, and a member of the Great River Economic Development Foundation Board of Directors and the Adams County Board.
Troup edged Paul Havermale in the Republican primary for mayor in March 2021, winning with 1,708 votes to 1,682 to Havermale. Then, on April 6, 2021, nearly 61 percent of the barely more than 6,000 people who voted chose Troup to be Quincy's next mayor over Nora Baldner.
A few headlines involving Troup this summer have been positive, such as the mid-August opening of the Target at 36th and Broadway that the mayor played a role in acquiring. However, many of the headlines have been downright damaging.
Aldermen Jeff Bergman (R-2) and Mike Farha (R-4) had sharp words for Troup during the June 19 Quincy City Council meeting when an invoice from a Chicago law firm for collective bargaining negotiations was discussed.
Bergman asked Troup how many phone calls he had received about complaints regarding the city's insurance. Troup replied he had received very few.
"People aren't calling you because they don't trust you," Bergman said. "They don't believe in you, plain and simple. That's what we hear as a public."
The Quincy City Council then voted 7-6-1 on July 10 that it no longer had confidence in the Troup administration. The unprecedented action has no real consequences, but it sent a message that the city's governing body hasn't been pleased with the first two years of the mayor's first term.
Quincy Police Department Inspector Patrick Hollensteiner told the City Council on Monday that employees were lied to about the recent cancellation of secondary insurance from American Public Life, based out of Flowood, Miss. Troup emailed aldermen explaining the change.
Hollensteiner said APL is no longer covering city employees because he learned Jim Baxter with Coalition Healthcare requested refunds and terminated policies in July.
"(Troup) blamed it on the president change at APLs headquarters, and although there is a new president at APL, that's not the reason," Hollensteiner said. "This entire time we've been battling with our insurance problems, the mayor has pushed it off on QMG and Blessing Hospital for not paying bills. This time he pushed it off on APL."
The city also was on the short end of an arbitrator's ruling in August that settled the collective bargaining agreement between the police union and the city. The last agreement expired April 30, 2021, and employees with the Quincy Police Department worked without a contract for more than two years.
The arbitrator sided with the police union's proposal to receive a wage increase of 2.75 percent for the 2021 contract year, and wage increases of 3.5 percent for the 2022, 2023 and 2024 contract years. Each contract begins in May. The union wanted a four-year year contract, and the city wanted a three-year contract with smaller wage increases.
Troup admitted recent developments helped force him to delay the decision on his mayoral candidacy.
"If I could get control of my schedule, I could spend time on it," he said. "As soon as I think I have a little time, something else drops on my lap. Not that I mind, because I knew what I was getting into as the mayor, but that's what has happened."
Miss Clipping Out Stories to Save for Later?
Click the Purchase Story button below to order a print of this story. We will print it for you on matte photo paper to keep forever.