Canton residents favor maintaining local police force; city officials learn only remaining officer plans to leave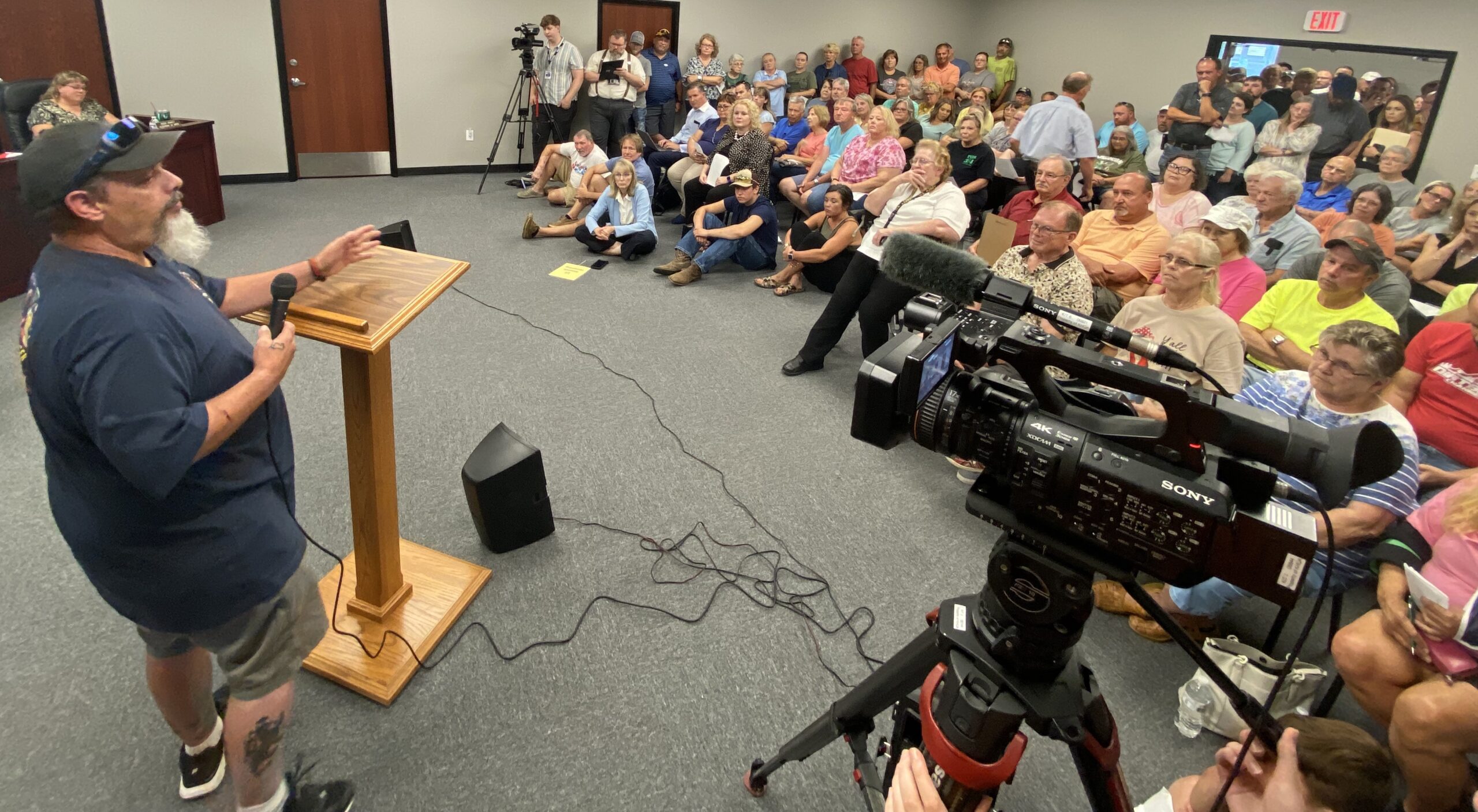 CANTON, Mo. — About 100 people jammed into City Council chambers in Canton's City Hall, with some even sitting on the floor. A few dozen more listened and fanned themselves in a crowded hallway. Most of them appeared to endorse the idea of maintaining the Canton Police Department.
However, it won't be long before the department is down to no employees.
Twelve people spoke to the Canton City Council during Tuesday night's public forum on options for law enforcement coverage. Each told Mayor Pro Tem Sharon Upchurch and five other aldermen they don't want the Lewis County Sheriff's Department to provide protection for the county's largest city.
"We pay for a police department. I want a police department," said Dan Cibert, a retired police officer who worked in both Canton and LaGrange for nearly 20 years. "I want our businesses to be safe. I want my community and myself to be safe.
"I don't want to worry if I'm out of town (about) what's happening with my family and when are (the police) going to get here. That is not a worry that I need, and it's not a worry that you need."
City officials placed Police Chief Justin Allen on administrative leave during a special meeting of the Canton City Council on July 31. Officers Toby Moss and Abigail Lyon turned in their resignations after the meeting to take positions with the Lewis County Sheriff's Department, leaving Dylan Ferreira as the only officer.
However, after Tuesday's public forum, Upchurch said Ferreira recently informed the city he is resigning as well. The Canton Police Department soon will have no officers.
City officials scheduled the public forum after learning Aug. 3 about an investigation of the Canton Police Department by the Lewis County Sheriff's Department, the Missouri State Highway Patrol Division of Drug and Crime Control and the Federal Bureau of Investigation that started in September 2022.
The investigation was made public by Lewis County Sheriff David Parrish and Lewis County Prosecuting Attorney Chelsea Fellinger. It discovered hundreds of items of evidence in the possession of the Canton Police Department had been tampered with or stolen, including money, hundreds of pills (controlled and non-controlled substances) and a handgun. Other issues with previous police chiefs and police officers in the past 10 years also were revealed.
Fellinger told the Canton City Council on May 19 that her office will not file any cases investigated by the Canton Police Department unless an outside law enforcement agency provides assistance. Because of "ethical obligations" to the state, Fellinger also recommended the Canton Police Department should not collect or store items of evidence until further notice.
Jarrod Phillips, Canton's mayor since 2011, contacted the Lewis County Sheriff in May 2022 to report the Canton Police Department had recently undergone mass personnel resignations and would be down to one officer (Allen). Shortly thereafter, Phillips requested an investigation after the city discovered an issue with evidence being stored at the police department.
When he learned of the results of the investigation on Thursday, Phillips said he hoped to get citizen feedback on the idea of working with the Lewis County Sheriff's Department. However, he resigned as mayor on Friday.
The city of Vandalia recently faced workforce issues with its own police department and contracted with Audrain County to provide police service. Those who spoke at the public forum, however, didn't support that idea.
Terry Sweet opened the forum by saying, "Most people in this room tonight have nothing but high praise for the county sheriff's department." Most people instead grumbled and voiced their disagreement.
"We should not put the full control in the county sheriff's department, but … we want their help … with anything that we need help with," Wesley Ley said.
"As the president of the food pantry board, when we have our big distribution, we've had to have the police involved with various different things," Mandy Gosik said. "They always show up very quickly. I can't imagine if we had to call somebody from way out on the other side of the county."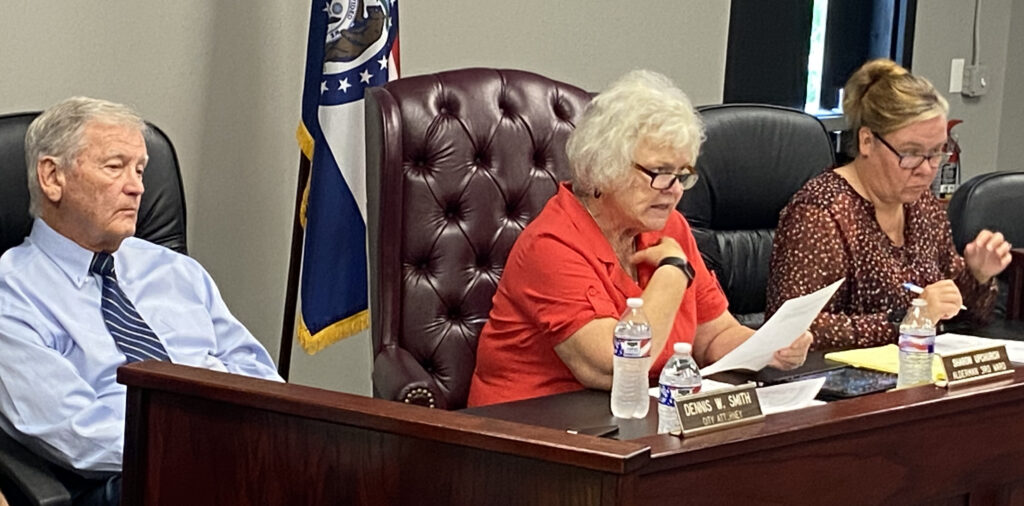 Upchurch first addressed the crowd by saying the City Council would not make any decisions Tuesday. She said aldermen wanted to learn what Canton's citizens want to do about the police department in the future. She also said the city's law enforcement budget is $425,000 per year.
"By state law, we are not allowed to decrease or eliminate the police department budget," Upchurch explained. "So even if we don't decide to keep our own police department, we still have to pay $425,000 for that service through some other entity."
Staffing issues within the city police department means Upchurch is open to any law enforcement option.
"I don't have any problem with talking to anybody," she said after the meeting. "I will talk to (the Lewis County Sheriff's Department), but they have a budgetary problem, too. We're going to have to depend on them for a while."
Rodney Johns told aldermen he also believes the city needs a police force. He believes not having one would affect recruiting at Culver-Stockton College. Athletes returned to campus last weekend, and the rest of the student body checks in beginning Aug. 17.
"When we look at who's watching your community, do you want your son or your daughter to go to this college with no police force in the community?" Johns said.
Lauren Schellenberger, named president at Culver-Stockton last month, and Kim Gaither, interim provost and vice president of academic affairs, attended Tuesday's meeting. However, neither made a public comment.
"Culver-Stockton College has, in recent years, worked closely with both the Lewis County Sheriff's Department and the Canton Police Department," Schellenberger said in a prepared statement. "We are confident in our own campus safety department staff and their judgment in working with local law enforcement agencies when necessary."
Phillips said last week it is difficult to attract law enforcement officers to work in Canton. He was waiting to learn what the Quincy City Council does with proposals regarding residency requirements for Quincy police officers. The Policemen's Benevolent and Protective Association Unit 12 wants residency requirements to allow people within a 40-mile radius of the police department to work in Quincy.
Even if that happens, Cibert believes the city can find officers.
"The biggest problem is new, young officers who are just now turning of age to be an officer get bored in the small communities," he said after the forum. "What you do is you try to find the most experienced (officers) you can — not necessarily aged but still with years of experience and would enjoy the slower pace (of Canton). They're not hard to find. You just have to put it out there. It takes a little while, but they're out there."
Terry Fretwell, who served two terms as mayor, challenged people to educate themselves about the police department issues and offer ideas in "a positive manner."
"Do you have any idea what the city's doing? Most of you don't," he said.
Fretwell believes changing the officers' schedule could help attract more officers.
"You don't have to have somebody cruising all the time," he said. "You can put them on call."
Fretwell also agreed with James McClaughry, who suggested using reserve officers.
"We can do that with a federal grant. That money is out there to be utilized," McClaughry said. "We do have resources that can be tapped into where you can get more bang for the buck. We just have to look around and find them."
Upchurch, a Third Ward alderman for 25 years, called the past few days difficult and stressful. She said she was home gardening Friday when she learned about Phillips' resignation.
"I had a bunch of employees who were distressed because the mayor, who they respected and loved and cared, left," she said. "So we had to get through that.
"But I do see a light (at the end of the tunnel). I think I do. I need to hear what the rest of the folks think."
"We're a community that is resilient," City Attorney Dennis Smith said. "We've responded to fight floods and tornadoes. We'll come out of this OK."
Miss Clipping Out Stories to Save for Later?
Click the Purchase Story button below to order a print of this story. We will print it for you on matte photo paper to keep forever.