'Communication' an issue for aldermen who reject budget proposal; special meeting set for Thursday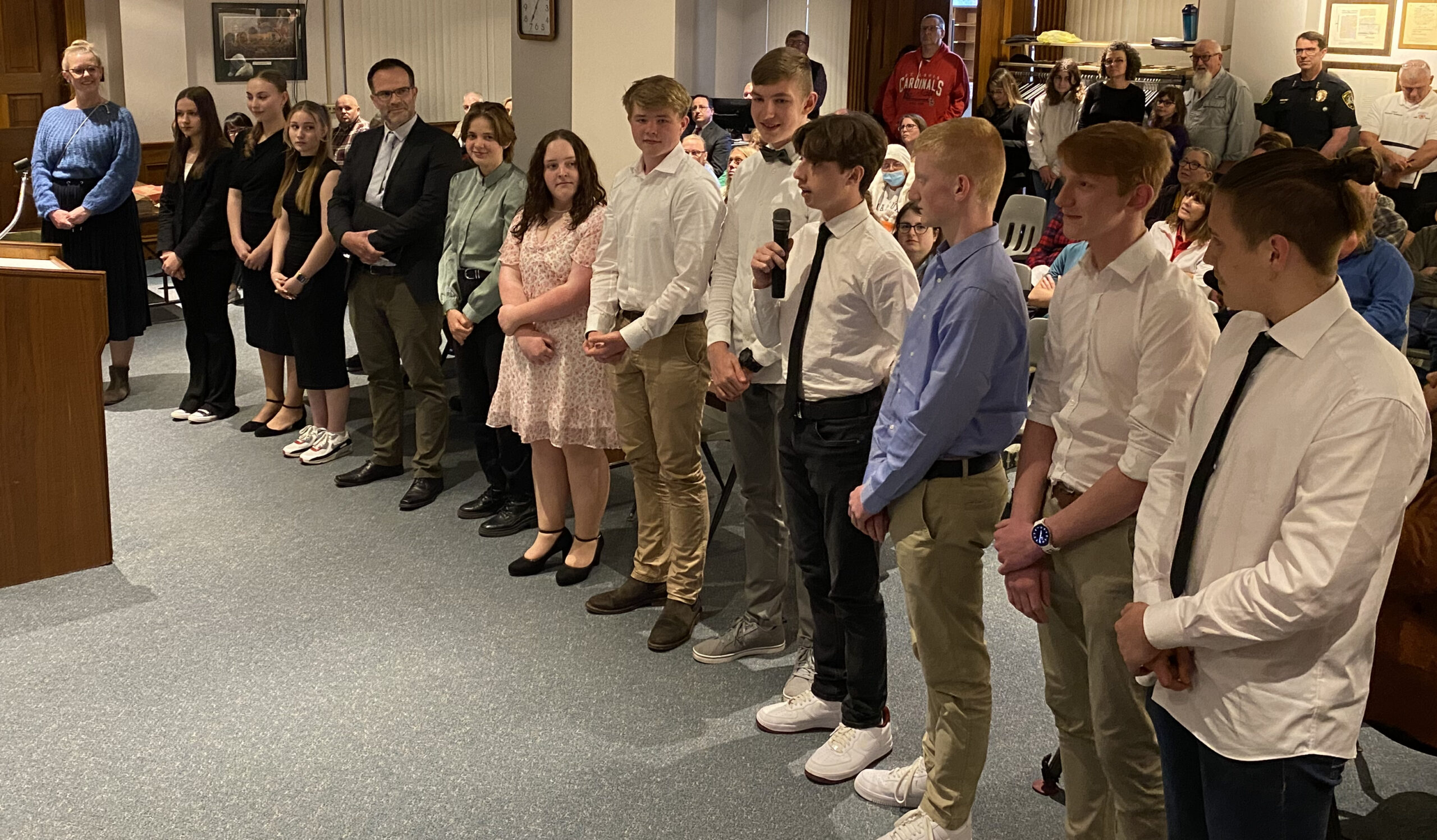 QUINCY — Asked why they were among the seven aldermen who voted Monday night not to approve a $50.29 million budget for the 2024 fiscal year, Richie Reis (D-6) and Greg Fletcher (R-1) echoed their answer.
"Communication," they said.
After three weeks of public meetings (before Quincy City Council meetings) discussing the city budget, aldermen got a chance to vote Monday. Mayor Mike Troup asked for discussion about the budget, but no one spoke. Reis and Fletcher then were joined by Jeff Bergman (R-2), Mike Farha (R-4), Tony Sassen (R-4), Mike Rein (R-5) and Patty Maples (D-6) in rejecting the measure 7-6-1. Dave Bauer (D-2) was absent.
A frustrated Troup then scheduled a special meeting for 7 p.m. Thursday to discuss changes or amendments to the budget, which must be completed before May 1 when the new fiscal year starts.
"Those of you who voted no, I think it's fair to point out that the budget as presented by the department, and we've spent the last three weeks studying, fully funds at 106 percent over the actuarial required contribution for fire and police pensions," Troup said to aldermen. "It funds the property tax buydown to keep it at 95 cents, which is the lowest it's been in 40 years. We've moved infrastructure for the general fund of $6 million, which is nearly three times the average spent from general fund on infrastructures since 2003.
"It fully funds all the contractual raises for all employees, and fully funds all positions in our police and fire departments. We also are maintaining cash reserves nearly at twice what the required level of 10 percent is, and it also uses ARPA (American Rescue Plan Act) funds to increase ward capital funding projects by $1,000,050 and an additional million dollars for a new fire truck. Those are the things that those seven people who voted no voted against."
No aldermen responded to Troup's comments.
Comptroller Sheri Ray was at a loss for words after the City Council meeting ended.
"There was no feedback," she said. "We had three budget hearings — an hour and a half the first week, an hour and a half the second week and tonight an hour. We covered the budget in its entirety. There was no feedback."
Asked after the meeting to explain concerns about communication, Reis said, "We haven't heard about the police contract for a month."
The last collective bargaining agreements between the union and city expired April 30, 2021. The Quincy Police Department has worked without a contract nearly two years.
That stalemate appears to be over a single issue.
Troup has said he learned the police department had previously engaged in allowing officers and supervisors in specialty positions, such as student resource officers and detectives, to be recorded as reporting to work on holidays on which they were scheduled work — even though they were not reporting to nor performing any work on holidays.
Officials with the Police Benevolent and Protective Association Labor Unit 12, which represents the officers and supervisors with the Quincy Police Department, say the practice has been in place for several years.
"We haven't heard about this investigation on the police chief," Fletcher said after the meeting. "That's going to be a $100,000 bill. Who's going to pay that?"
Muddy River News learned Dec. 30 that Troup requested an investigation into the way Adam Yates became Quincy's police chief. The mayor said at the time he could not comment regarding the substance of why an investigation is needed.
Told after the meeting that communication appears to be an issue in budget negotiations, Troup said, "What's funny is none of them shared that information with me.
"Communication goes two ways. It's not me to them, because I tried that my first year here in this position. When I asked questions, nobody responded. So I agree with them. Lack of communication is troubling, but communication is two ways. It can't be one way. If they have a question, call me. The public calls me, I return the calls. Some days I get (back to) them the same day they call me. Some days it takes me a day or two. It depends on the schedule, but I return my calls. There's not an alderman who called me that they haven't had a return call. So communication is available."
In other action, aldermen:
Allowed raffles to be conducted by the Quincy Notre Dame Football Committee from May 23 to July 22 and by the Muddy River Riders from now until July 22.
Gave permission to AirMedCare Network to have the Air Evac helicopter at Quincy Town Center, south parking lot behind IHOP, on May 21 from 1-3 p.m. for EMS Days.
Gave permission to Holly Cain, executive director of the Quincy Area Convention and Visitors Bureau, to display banners across Fifth and Maine for various events between May 8 and Nov. 20.
Approved a resolution authorizing the city to enter into a reciprocal agreement on an exchange of information with the Illinois Department of Revenue.
Agreed to buy an International MV607 single axle truck cab and chassis for $128,049.52 from Rush Truck Center, a Case TR310B Trac Skid Steer with bucket for $70,385 from Luby Equipment and 2024 GMC Sierra 3500 HD for $67,823 from Poage Auto Plaza.
Approved spending $16,920.87 with Quincy Fence Co. for the purchase and installation of a fence at the city's recycling drop-off site at 1121 Locust.
Approved entering into an agreement with Housby Auction of Des Moines, Iowa, for online auction services for the sale of unused vehicles and equipment.
Approved directing Troup to create an ad hoc committee to determine the future of the city's yard waste cleanup operations after a contract with Evans Recycling expires in a year.
Met a group of 11 students from Widukind Gymnasium in the Enger District near Herford, Germany. Hendrik Kellner, the group's physical education and English teacher and coordinator of the German American Partnership Program, introduced the students, who arrived April 16 and leave Tuesday. They stayed with students from Quincy Notre Dame and their families as part of an exchange program.
Miss Clipping Out Stories to Save for Later?
Click the Purchase Story button below to order a print of this story. We will print it for you on matte photo paper to keep forever.