Johnson to spend rest of life in prison after Adams County jury finds him guilty of predatory criminal sexual assault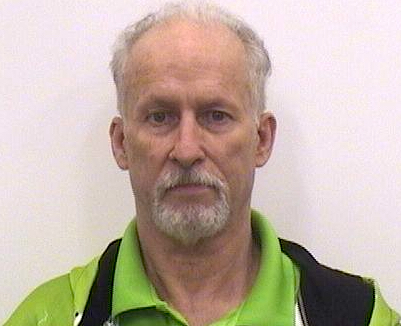 PLEASE READ THIS CAUTIONARY NOTE: Readers should understand this story contains descriptions of sexual abuse. This may offend and shock some readers or be painful to survivors of sexual abuse or assault. Muddy River News believes it is necessary to report this information as a warning and a reminder of what comprises sexual abuse and the importance of protecting children and supporting those who have suffered abuse. The names of the children and their parents involved in this case are being withheld to help protect the identity of the children. Quoted material is from the court proceedings.

QUINCY — An Adams County jury of six men and six women deliberated for less than an hour Wednesday before finding Leonard Johnson guilty of four counts of predatory criminal sexual assault of a child under the age of 13.
Closing arguments by Assistant State's Attorney Josh Jones and defense attorney Drew Schnack concluded at 4:12 p.m. Judge Tad Brenner read jury instructions and sent the case to the jury at 4:34 p.m. The jury deliberated 46 minutes before reaching a verdict at 5:20 p.m.
Brenner will sentence Johnson on March 13. Johnson, 63, a gymnastics coach from Rochester, Minn., will receive mandatory life in prison because the jury convicted him of a predatory criminal sex offense against two victims. One of those victims, a 10-year-old girl, told the jury on Tuesday about when she and her stepsister spent a night with their great uncle in a Quincy hotel in May 2020 and they touched his genitals with their mouths and hands.
"You're never really happy in a case like this, because you're dealing with two girls whose lives have been completely and dramatically altered by the selfish acts of a family member they thought they could trust," Jones said after the verdict. "To say we're happy is not the feeling that we're having. We're feeling relieved that justice was done. That's the only way you can describe it."
Johnson refuses to raise hand during courtroom oath
Johnson's decision to testify on Wednesday may have backfired — even before he took the witness stand.
When clerk Brandy Frese read the courtroom oath to swear in Johnson, he refused to raise his right hand and said nothing, looking back at his attorney. Schnack replied, "Don't look at me."
Johnson then said, "I'm sorry. I don't take oaths. I will agree to be honest with God as my witness."
After Brenner and the attorneys briefly met outside the courtroom, Frese read Johnson a slightly altered oath, and he said yes — but still refused to raise his right hand.
"In 20 years of being a criminal attorney and more than 100 jury trials, and I don't even know how many other hearings that we've had, I've never had a defendant refuse to raise his right hand before taking an oath," Jones said after the verdict was read. "If a 9-year-old girl and a 10-year-old girl can go into that courtroom (to testify on Tuesday) and raise their right hand, there's absolutely no reason why a 63-year-old couldn't raise his right hand to take that oath.
"How much did it play a role in the jury's verdict? I don't know. That's a question for the jury. But you're damn sure I'm going to talk about it in closing argument every chance I can."
Johnson ordered suite at Quincy hotel
During Schnack's interview, Johnson said he drove from Minnesota to his sister's daughter's home in Hannibal on May 19, arriving about 11 a.m. He then said a plan was made for Johnson and others to stay at a Quincy hotel. Johnson was to travel by himself, and a neighbor was going to bring her son, along with Johnson's great niece, great nephew and step-great niece.
"The plans changed, and I ended up having (the two girls) with me," he testified.
Johnson testified he made a reservation at the hotel, asking for a suite with two bedrooms and a kitchenette. He arrived at the hotel at approximately 2 p.m., but the other group never arrived.
Schnack showed the jury a photo of the bill for the hotel room Johnson paid for. He noted a $25 discount, which Johnson said he received because he did not receive the room he asked for. Instead of the suite, Johnson received a room with a king-sized bed and a jacuzzi.
"Why didn't you complain when you first got there?" Schnack asked.
"Because I had already become a little bit frustrated at the fact that the other party had not arrived," Johnson said.
Johnson said he took the girls to a nearby restaurant, then waited in his car in the hotel parking lot for nearly two hours to decide if he was going to stay at the hotel.
"I was quite tired, and my legs hurt," he said.
Johnson: Relationship with 10-year-old great niece was 'platonic'
Johnson said the two girls played in the jacuzzi, but he never went into the jacuzzi with them. Instead, he claims he sat on the edge of the bed. He said he left the room when the girls dried off and got dressed after getting out of the jacuzzi, and they later watched a movie.
Schnack asked Johnson if he was close to the 10-year-old girl. "Not really," he replied. "Just as a relative. That's all."
During the cross-examination of Johnson, Jones characterized him as "fun Uncle Leonard" who bought the girls gifts, playing games with them and occasionally buying groceries.
"But you just told Mr. Schnack that you guys weren't really close," Jones said.
"My definition of close is not the same," Johnson replied.
"I'm trying to figure out what your definition of 'close' is," Jones later asked. "If it's not playing games, being 'fun Uncle Leonard' and buying them things, what would be a close relationship?"
"Well, it was quite platonic," Johnson said. "I wasn't overly friendly with them."
Jones questions Johnson's story about plan for two rooms
During Schnack's re-direct, he asked if six people were supposed to stay in the suite he ordered. Johnson corrected him, saying, "There were supposed to be five in that room, and I was to get a different room next door or nearby."
"Did you think there was anything inappropriate about you and a 7-year-old and a 6-year-old, your grandnieces, spending the night in that room?" Schnack said.
"No, sir," Johnson replied.
"Anything wrong about sleeping in that giant king-sized bed?" Schnack asked.
"They slept in the bed. I did not," Johnson said. "I did not think there was any problem with it, because I'd already stayed at their house before."
Jones followed up on Johnson's plan for two rooms.
"Where's the receipt for (the canceled room)?" he asked.
"I did not get (the other room), because I was the only adult with them," Johnson replied.
"You made this reservation before you drove over there. That's what you told Mr. Schnack," Jones said.
"I was going to do a walk in, because COVID prices were lower at that time for a hotel," Johnson said.
'If she was acting, give her an Emmy'
During his closing statement, Jones replayed parts of videos of forensic interviews of both girls, which the jury saw Wednesday morning. The 10-year-old girl (7 at the time of the interview) spoke once with Jessica Homeyer with the Child Advocacy Center of Northeast Missouri. The 9-year-old girl (6 at the time) did two interviews with Homeyer.
The 10-year-old girl graphically detailed what she and her stepsister did in the hotel room jacuzzi with Johnson. The 9-year-old girl used anatomic dolls to create what she saw in the hotel room.
"When you think about that testimony (from the 10-year-old girl), you don't have to just think about words," Jones said. "You're allowed to consider her manner while testifying, the look on her face, when she shared that with you. Was she acting? If she was acting, give her an Emmy."
He later said, "I suppose it's possible that the girls made it all up. Why do people lie? Well, people lie if it helps. You don't tell a lie to get into more trouble. You tell a lie to get out of trouble. You tell a lie if it benefits you."
Jones concluded by saying the two girls "were probably the bravest people in this courtroom. They stood up there, they raised their right hand, and they told you the truth."
Schnack jumped on Jones' statement, telling the jury, "If it's possible that the girls made it all up, the only appropriate verdict is not guilty."
He noted the prosecution presented no scientific evidence proving Johnson's guilt. He also pointed out inconsistencies in the statements made by the two girls, saying "they gave you different versions of the same event."
"Would you believe an adult who came in here and couldn't give you the basic information that we had asked for?" Schnack said. "These kids don't get a pass because they're kids."
Schnack said Johnson 'made poor decision' by testifying
Assistant State's Attorney Laura Keck, who handled Tuesday's courtroom testimony of the girls, said after the verdict that research shows the only way people suffering of this type of abuse survive is that they are believed, and they know that something happens.
"That's my hope is for these girls is that they know they were believed, they know he was held accountable, and they played a part in that," she said. "I wish those girls wouldn't have had to come in and say what happened, but I'm hopeful they will go on and live really good lives."
Schnack said the verdict didn't surprise him.
"I thought he made a poor decision (by) choosing to testify," he said. "All I can do is tell him, and if they don't listen to me, there's nothing I can do."
Schnack thought Johnson's decision not to raise his hand to take the courtroom oath could have affected the jury.
"I told the clerk he's going to affirm. It happens all the time. He certainly didn't tell me he wouldn't raise his hand," he said. "That made him look bad from the get-go. There's a reason why defense lawyers tell their clients not to testify, but it's his decision. He made it, and you heard what Josh said about his testimony. 'Nuff said."
Miss Clipping Out Stories to Save for Later?
Click the Purchase Story button below to order a print of this story. We will print it for you on matte photo paper to keep forever.