Johnson's request to retry sexual assault case denied by judge; sentencing set for April 3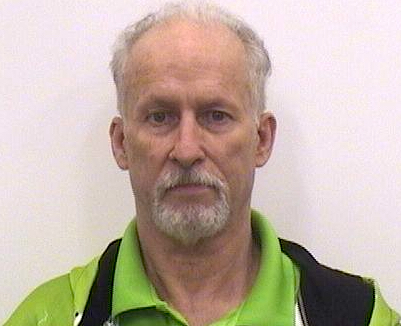 PLEASE READ THIS CAUTIONARY NOTE: Readers should understand this story contains descriptions of sexual abuse. This may offend and shock some readers or be painful to survivors of sexual abuse or assault. Muddy River News believes it is necessary to report this information as a warning and a reminder of what comprises sexual abuse and the importance of protecting children and supporting those who have suffered abuse. The names of the children and their parents involved in this case are being withheld to help protect the identity of the children. Quoted material is from the court proceedings.
QUINCY — A gymnastics coach from Rochester, Minn., found guilty Jan. 12 on four counts of predatory criminal sexual assault if a child under the age of 13, will be sentenced on April 3 after a judge denied a request to retry the case on Monday morning in Adams County Circuit Court.
Leonard Johnson, 63, will receive mandatory life in prison, because the jury convicted him of a predatory criminal sex offense against two victims. One of those victims, a 10-year-old girl, told the jury about when she and her stepsister spent a night with their great uncle in a Quincy hotel in May 2020 and they touched his genitals with their mouths and hands.
An Adams County jury of six men and six women deliberated for less than an hour to find Johnson guilty. Johnson was scheduled to be sentenced Monday by Judge Tad Brenner.
However, Johnson filed a post-trial motion on Feb. 6, asking for Brenner to find him not guilty or allow another trial to be conducted.
He said Assistant State's Attorney Josh Jones made prejudicial comments and erroneous statements in his closing argument that prejudiced Johnson's right to a fair trial. Johnson said he was denied due process and equal protection. He also said the verdict was a result of "passion, bias and prejudice" on the form of the witnesses and their testimony, resulting in prior inconsistent statements to the court and jury, preventing him from receiving a fair trial.
Johnson then sent a 72-page letter to Brenner that was filed in the circuit clerk's office on Feb. 22, detailing his request for a new trial based on "ineffective assistance of counsel, due to (attorney Drew) Schnack's deficient performance."
"For nearly 2½ years, my side of the situation has been suppressed and kept silent," Johnson wrote.
Brenner filed an order on Feb. 24, stating Johnson's plea was sufficient to trigger the need for a preliminary Krankel inquiry. In Illinois, a judge must conduct a Krankel hearing when a defendant complains about his attorney's performance. The procedure addresses problems at the trial level before they advance to the appellate court.
Brenner told Johnson he broke down his plea into six categories:
The affirmation Johnson took before he testified in his trial.
Schnack's cross-examination of witnesses
Schnack's cross-examination of Johnson
Issues concerning Johnson's body
Schnack failing to raise issues about information in a box delivered by a previous attorney
Johnson's request for a substitution of judge
Johnson refused to raise his right hand when clerk Brandy Frese swore him in before testifying in his trial — a fact that Jones noted in his final argument before the jury.
Brenner confirmed, however, that Johnson agreed to the oath when he was in his chambers, and he also agreed to it (without raising his right hand) when Frese re-read the oath.
Brenner then told Johnson he had addressed him about decisions regarding tactics or strategy pertaining to his defense belong to his attorney.
"The attorney decides what witnesses to call, whether and how to conduct cross-examination, what jurors to accept or strike, what trial motion should be made, and what evidence should be presented," Brenner said.
He then asked Schnack, an attorney for more than 40 years, how many trials he had conducted.
"More than I can count," Schnack replied.
Schnack, who spent most of the hearing seated next to Johnson but with his back turned to him, then explained his reasoning for how he cross-examined the two girls, ages 9 and 10.
"A defendant usually wants me or his attorney to go after a witness and make that witness look stupid, make that witness look like a liar and basically attack them," he said. "Based upon what I saw and heard with those two girls, that would have been a disastrous cross-examination."
Brenner asked if it was fair to characterize the decisions regarding cross-examination as issues of strategy, based upon his experience. "Absolutely," Schnack replied.
Schnack then explained his cross-examination of Johnson, saying "he didn't recommend it."
"What I tell virtually every defendant is if you testify, you have to tell the truth," he said. "Second, you're exposing yourself to cross examination by two experienced state's attorneys. When you're on the witness stand, you're in a somewhat helpless position. The cross-examiner in this case, Mr. Jones, can do pretty much what they want as long as it's within the bounds of the rules of evidence. That is not a smart thing, in my opinion, for him to do. It's something that's done out of desperation than for any other reason.
"I'm hopeful Mr. Johnson now realizes that was a mistake on his part."
Brenner then addressed Johnson's issues related to his body. Johnson said he had four surgeries and had lost more than 100 pounds over a short period of time. He said he suffers from non-alcoholic cirrhosis of the liver, which causes his legs and feet to swell, making it difficult for him to drive. He also said he would never let anybody touch his feet — which the young girls claimed they did — because of the pain.
Schnack said Johnson asked him at one time to present photos of his body in a swimsuit to the jury. He said he considered it, adding it was "certainly bizarre."
"Then one Monday before trial, my administrative assistant came in and turned on her computer screen," Schnack said. "She said words to this effect: 'Oh, my God, it's Monday morning, and I'm looking at naked pictures of Leonard Johnson's junk.' Whenever I get something like that from the state, I get a disclaimer that there's offensive material, things of that nature. There was no warning on it at all."
He said Johnson wanted him to ask the girls if there was "something unusual about his junk, about his penis and about his private area."
"I can't imagine that Mr. Jones or Miss (Laura) Keck would allow me to ask that question, even though it's stupid to ask," Schnack said. "Second, in my opinion, what would a 9- or 10-year-old girl have to compare that to? My guess is nothing. All I would have done was further traumatize these girls, further alienate these girls and further alienate Mr. Jones, if that was possible. … That was not a road to go down at all."
Schnack also told Brenner he used several materials from a box delivered to him by attorney Fred Cruse as part of his defense. He also told Brenner he considered Johnson's request for a substitution of judge.
"In a jury trial, (the judge is) more of a referee than a decider of fact," he said. "I told Mr. Johnson that, in my experience, you were a good judge of all sides, and I didn't see any reason to substitute you out. The other problem with the substitution challenge is you never know who you're going to get. You could do a whole lot worse."
Brenner eventually ruled that none of Johnson's concerns led him to believe that a full Krankel hearing was necessary. He asked Johnson if he wanted a new attorney for the sentencing hearing.
"I would like a different counsel. I cannot argue this myself," Johnson replied.
Brenner then explained a new attorney would be at a disadvantage at this stage of the court proceedings.
"I am willing to keep Mr. Schnack if he will talk to me, which he rarely did," Johnson said.
Miss Clipping Out Stories to Save for Later?
Click the Purchase Story button below to order a print of this story. We will print it for you on matte photo paper to keep forever.