Judge allows Yohn to defend himself again, this time in two felony cases now set on April docket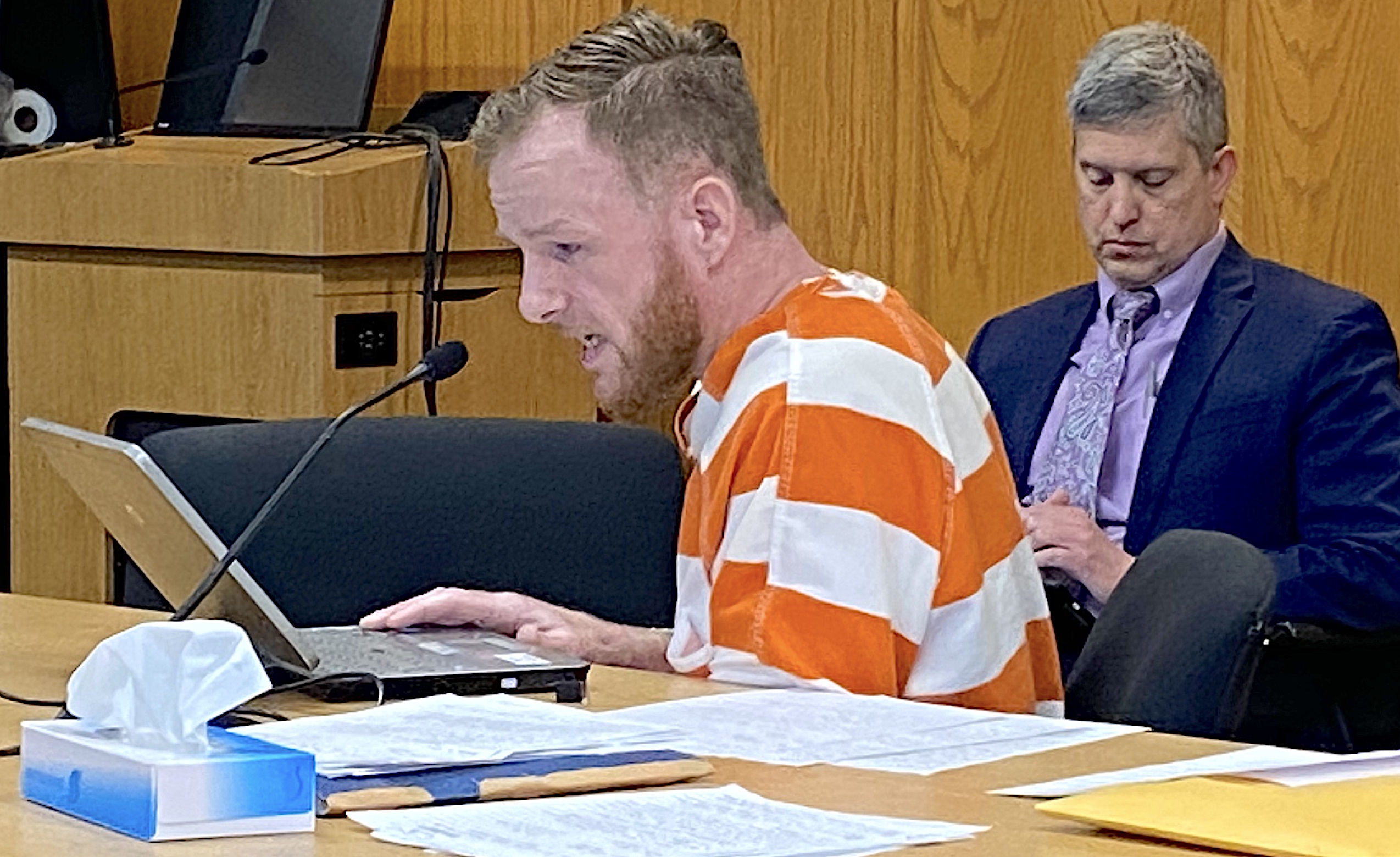 QUINCY — A Springfield man defending himself in a November 2021 sexual assault case said Tuesday afternoon he wanted to defend himself in two other felony cases — and a judge granted his wish.
Bradley Yohn, 36, appeared before Judge Tad Brenner in Adams County Circuit Court with his attorney, Public Defender Todd Nelson, for a status hearing in two cases.
He was charged Oct. 15 with allegedly threatening to kill a correctional officer, a Class 3 felony, in the Adams County Jail. An Adams County grand jury indicted Yohn on Oct. 27. He pled not guilty on Nov. 1 to that charge.
Yohn was charged Nov. 15 with three counts of possessing contraband in a penal institution, a Class 1 felony, and communicating with a witness, a Class 3 felony. An Adams County grand jury indicted Yohn on Dec. 8. He pled not guilty on Jan. 24 to that charge.
Yohn filed a motion on March 16 asking for Nelson to withdraw as his counsel and grant his right for self-representation. He's already defending himself in a November 2021 sexual assault case, which is scheduled to be tried on the May docket.
In his motion, Yohn claimed Nelson had not defended him "in any way." He claimed Nelson:
hasn't shown him discovery;
has not visited him in the Adams County Jail to ask about his side of the alleged incident;
hasn't built or formulated a defense;
has not placed forth motions to challenge the sufficiency of the alleged evidence;
has done nothing to retrieve exculpatory evidence;
does not communicate with him in any manner.
Yohn said Nelson's failure to seek exculpatory evidence "has severely prejudiced me and definitely contributed to the loss of my life. Without that evidence, I am guaranteed to get a guilty verdict, whereas if he would have done his job, I would positively factually be found innocent."
He then claimed the exculpatory evidence has been deleted and never can be retrieved.
"This in itself should be crime enough to charge Mr. Nelson and him have to do this prison time with me," Yohn wrote.
Brenner opened Tuesday's hearing by reviewing the two felony cases and possible sentencing ranges. Yohn then interrupted Brenner.
"No need to be disrespectful or anything, but what's your point?" he asked. "I mean, what are you trying to get at?"
"I just want to make sure that the record is very clear," Brenner replied.
"Yes, it's very, very clear," Yohn said, "I want myself to make it very, very clear also (the case involving three counts of possessing contraband in a penal institution) is a violation to my rights as a pro se defendant."
Brenner then addressed Yohn's motion to remove Nelson as defense counsel. He explained Yohn doesn't have the same experience that a lawyer would have, he's not familiar with legal proceedings and he might not make effective usage of his rights as a lawyer might. Brenner said he couldn't give Yohn any special considerations.
"Your honor, at this point, I wouldn't expect any special considerations," Yohn said. "I've not gotten the natural considerations that any natural inmate gets any way."
He later said, "I understand I have a lot going on, but I have a lot less being done for me at this current time. I think I'd be best suited to represent myself. This guy (Nelson) is in way over his head."
Brenner said he would allow Yohn to represent himself and excused Nelson. Any discovery material, Nelson said, will be delivered to the Adams County Sheriff's Department by the end of the week.
After a discussion of whether Yohn had filed any other motions in the two felony cases (he had not), Brenner asked Assistant State's Attorney Josh Jones if the cases remained on the April jury docket. Jones said they were, with a final pre-trial set for March 31.
Yohn pointed out that Judge Robert Adrian had set the cases for the March docket, but that Brenner had stricken them from the docket on Feb. 7. As he started explaining that the other cases involving the sexual assault were on the May docket, Brenner interrupted him.
"You want to go to trial on these two cases in April? Yes or no?" he said.
"I appreciate you cutting me off," Yohn said. "I'm trying to explain something rational and logical to you."
When Brenner asked if he wanted the cases to remain on the April docket, Yohn corrected him and said they were not — and Jones agreed with Yohn.
"If you would have just listened to me," Yohn said. "I guess my word just isn't relevant enough."
Yohn then turned to family members in the courtroom and said, "What is wrong with these people? They don't know what they're doing."
Yohn then said to Brenner, "Where'd you find this robe at? Party City?"
Jones told Brenner he was willing to try the cases in April if Yohn was.
"If he's not prepared for April, he needs to say that," Jones said. "Otherwise, we're going to try one of these cases."
Yohn said he would be ready to defend himself.
"I'm quite disappointed they were stricken off the last docket," he said. "This is a clean-cut case. Both of them are very clear."
Before bailiffs led him from the courtroom, Yohn had one last outburst.
"Trivia question: Anybody know what Illinois Supreme Court rule 415(c) is?" he asked. "And why Mr. Yohn was violated on Nov. 14, had his whole trial presentation taken from him out of his cell as a pro se defendant? Does anybody know why? Can anybody answer that for me? While they violated my confidentiality rights?"
Illinois Supreme Court rule 415(c) reads, in part, "Upon motion of the attorney, the court shall, within five court days, enter an order allowing the attorney to provide a copy of the discovery to the defendant unless good cause is shown why the discovery should not be furnished to the defendant."
Miss Clipping Out Stories to Save for Later?
Click the Purchase Story button below to order a print of this story. We will print it for you on matte photo paper to keep forever.