Canton mayor wants to investigate law enforcement options for city; Lewis County sheriff doesn't want his department to sign contract with city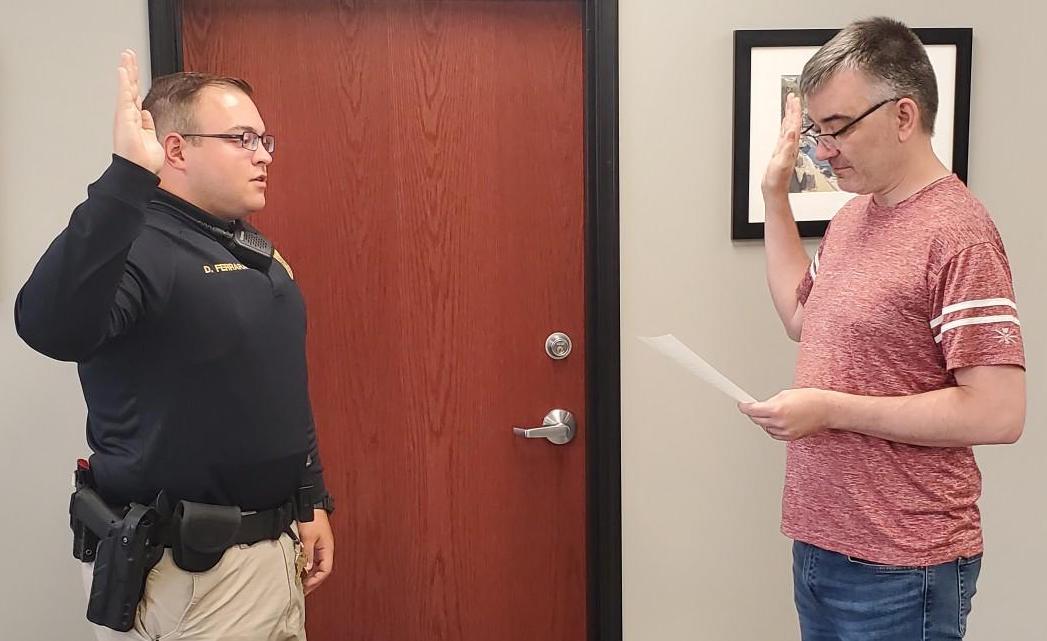 CANTON, Mo. — The Canton Police Department went from four officers to one on Monday night, and Canton Mayor Jarrod Phillips wants to plan for a forum next week to discuss public law enforcement options in the city.
However, Lewis County Sheriff David Parrish says he won't recommend his department make any deals with the city.
"I would not ask our county commissioners to even entertain any type of contract with the city of Canton as long as Mayor Phillips is there," Parrish said. "I just think that he has, I believe, not done things in good faith."
Details of an investigation by the Lewis County Sheriff's Department, the Missouri State Highway Patrol and the Federal Bureau of Investigations were made public Thursday morning in a press release by Parrish and Lewis County Prosecutor Chelsea Fellinger.
The report alleges hundreds of items of evidence in the possession of the Canton Police Department have been tampered with or stolen, including money, hundreds of pills (controlled and non-controlled substances) and a handgun. The investigation also revealed other issues with previous police chiefs and police officers in the past 10 years.
Phillips got his first look at the press release from Fellinger and Parrish on Thursday afternoon. He says the city has been cooperating with outside agencies during the investigation.
"Any time you have somebody who has violated the trust of the public and tampered with evidence, that's an egregious violation of the law," Phillips said. "It just has no place, but unfortunately it did happen. That's why we contacted the sheriff's department."
The report from the sheriff's department, MSHP and FBI said the investigation began in September 2022 with the scheduling of preliminary interviews with past and present members of the department. However, the investigative team quickly learned city officials had hired an attorney to represent the department members.
The report alleged Justin Allen, the acting chief of the department at the time, contacted department members and advised them not to speak with investigators until they had met with the city's attorney. The report claimed Allen's action stalled proceedings of the investigation.
"The assertion that getting legal counsel was a delay tactic is patently false," Phillips said. "We worked with our insurer and our risk management agency on the next steps that we should take. They recommended that we get an attorney. We have been cooperating and working with the outside agencies on the investigation and working with our attorneys to ensure we're complying. We're taking this matter as seriously as possible."
A special meeting of the Canton City Council was held Monday, July 31, to discuss the status of the Canton Police Department. Fellinger said "no clear plan for moving forward" was created at that meeting.
However, Phillips said Allen, now the chief of the department, was placed on administrative leave that night. He also said officers Toby Moss and Abigail Lyon turned in their resignations afterward to take positions with the Lewis County Sheriff's Department, leaving Dylan Ferreira as the department's only officer.
Phillips admitted difficulty in attracting law enforcement officers to work in small departments like Canton. He also has his eye on Monday's Quincy City Council meeting when aldermen will review two proposals regarding residency requirements for Quincy police officers. The Policemen's Benevolent and Protective Association Unit 12 wants residency requirements to allow people within a 40-mile radius of the police department to work in Quincy.
"It is difficult to attract people into small departments like this," Phillips said. "If (Quincy opens) up the boundaries to 40 miles, it is going to be extremely difficult to maintain small municipal police forces. Some of our sheriff's departments in our rural counties are going to suffer when you can go to a bigger department and your starting pay is going to be much higher."
Phillips, the city's mayor since 2011, said he wants citizen feedback on the idea of working with the Lewis County Sheriff's Department.
"We have two schools here in the community, and schools unfortunately these days can be a target for violence," he said. "We're not sure if we would get adequate coverage (by contracting with the county for police service). … But you have to look at through the lens of recruitment. Honestly, with a department that is in the shape ours is in, it's going to take a complete rebuild. We have to ask our citizens if they want to go through that time and expense of looking at rebuilding the department.
"Ultimately, we work for the people. We've got to figure out what they want, and then that's the direction that we're going to move forward. It's difficult enough for (the sheriff's department) to you cover the things they've got, let alone deal with us. The (Culver-Stockton) college students are coming back (in August), and we need to be ready to go."
Parrish, Lewis County's sheriff since 2000, said the city of Vandalia recently was facing manpower issues with its own police department and contracted with Audrain County to provide police service.
He said city officials had a copy of the investigation from his department, MSHP and the FBI, when Fellinger sent a notice on May 18, telling them her office will not file any cases investigated by the Canton Police Department unless an outside law enforcement agency provides assistance.
However, Parrish said the investigation was not referred to during the July 31 special meeting of the City Council.
"There were a couple of folks who stood up and said they would like to see the city keep their police department, which is fine," Parrish said. "The citizens of Canton will have to decide that, but I was very disappointed the mayor nor anyone on the city council made any mention of this year-long investigation, which they had in their hands.
"Mayor Phillips has never done anything to let his community know that these things were going on. (Parrish and Fellinger) held off on doing anything publicly in the hopes that the mayor and the City Council would get some of these issues resolved and at least commit to making the changes that our prosecutor had requested. That did not happen, nor did they bother to tell anyone of all of these issues that have been going on. That's why the prosecutor and I decided that the public had a right to know."
When told Parrish wouldn't recommend his department work with the city as long as he is mayor, Phillips replied, "I really don't know how to respond to that."
Parrish says he has a staff of six deputies to cover 500 square miles in Lewis County, which has approximately 10,000 residents. He said when the Canton Police Department had mass resignations in May 2022, deputies were covering up to 100 hours a week and the level of calls was "not significant."
"Canton is a very safe town," Parrish said. "They don't have major issues all the time. I don't know why it's like this for Canton. It's not like this in LaGrange. It's not like this in other towns around here. Lots of little towns have very successful little police departments. I believe Canton has had 10 or 11 police chiefs since I became sheriff."
Miss Clipping Out Stories to Save for Later?
Click the Purchase Story button below to order a print of this story. We will print it for you on matte photo paper to keep forever.