Proposed residential property registration ordinance tabled until September by City Council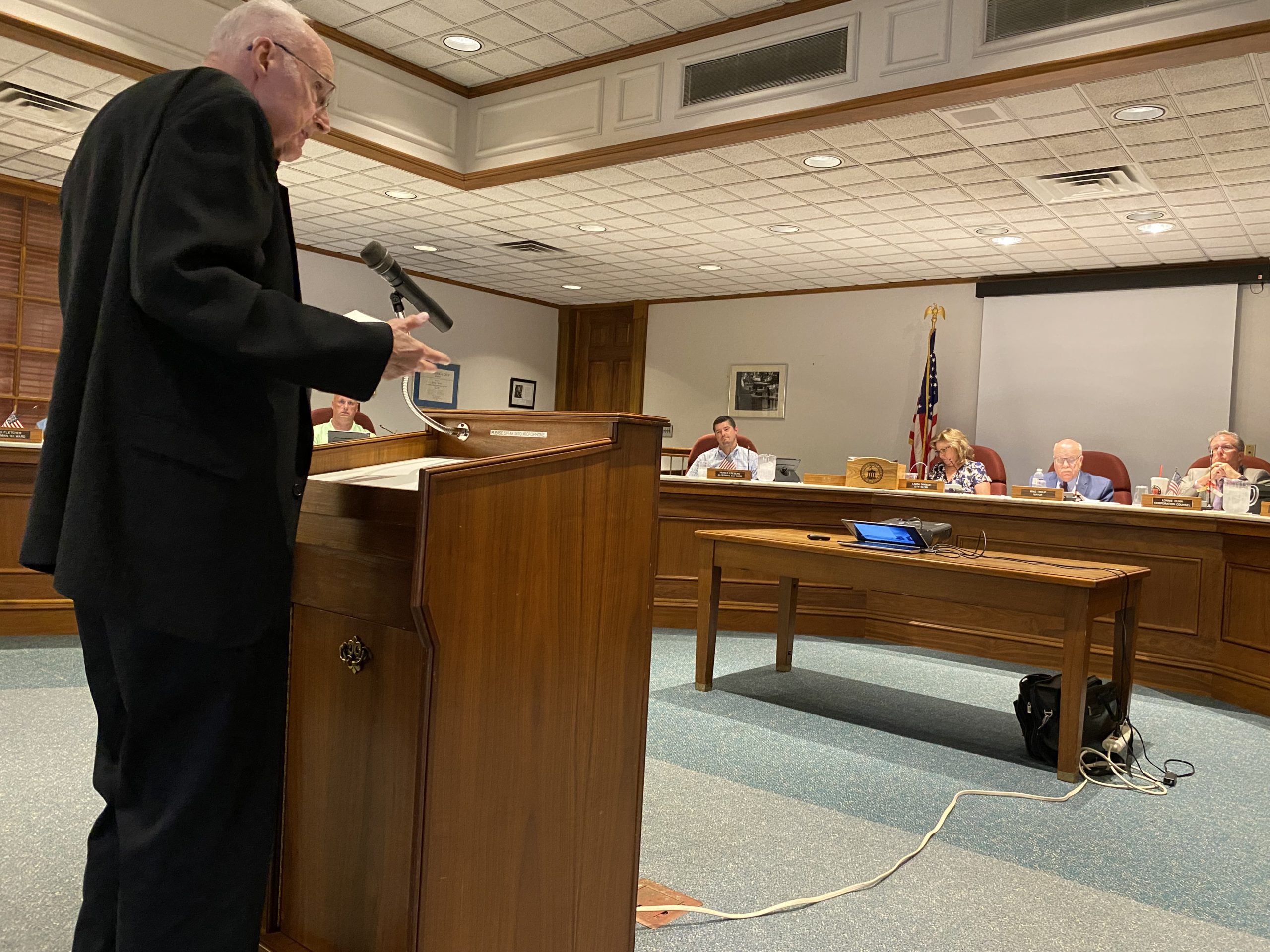 QUINCY — The Quincy City Council voted Monday night to table discussion about a proposed residential rental property registration ordinance, choosing to spend the next 2 ½ months to study the issue before aldermen review it in September.
Seven people spoke to the City Council on Monday in support of the ordinance.
Mayor Mike Troup spoke afterward, reading to aldermen about four locations with insufficient living conditions. He described broken steps, missing ceiling tiles, water leaks, doors with no knobs, piles of trash outside homes, roach-infested kitchens, front doors that had to be duct-taped shut and a home in which a family had to move a dresser or couch in front of the front door each night.
"These are examples of what motivated me when I became mayor to sit with Chuck (Bevelheimer) in planning and development and Michael (Seaver) in inspections. There's got to be a way to improve these living conditions," Troup said. "I wouldn't want my dog to spend a night in any of these facilities. I think Quincyans have enough pride in what we want to offer. We want to clean up the community, and we need to step it up to have safe housing.
"None of the ordinances that we've asked for today says you need granite countertops in any of these units. We're asking for the minimum. You have to have water in the facility of the units. You have to have windows that open and close. We have to have doors that open and close and lock. I don't think we're asking too much."
The proposed ordinance, introduced at the June 7 City Council meeting, would establish a database of rental properties to aid the city in identifying substandard housing problems. It also would provide data for the development and focus of future housing-related grant programs.
The database would enhance communications with owners and landlords, who must provide email and emergency contact information. The city often only has contact with owners and landlords by mail. Any owner or landlord not residing within 50 miles of the city limits must designate someone who does and provide contact information.
Registering for the database would be free. Fees, fines, suspension or revocation of registration could be penalties for non-compliance.
Non-registered properties would not be allowed to be offered for rent. Landlords and tenants would be educated of the minimum standards of the city's property maintenance code. An annual audit of a self-certification program would allow for limited inspections of up to five percent of the properties.
Many aldermen voiced their displeasure at last week's meeting. They said the ordinance did not legislate renters in the same way that it legislates owners and landlords.
Father Joe Zimmerman of 724 N. 20th told stories about St. Francis of Assisi and the Good Samaritan to demonstrate that "we cannot turn away our fellow Quincyans who live in substandard conditions."
Jerry Gille with the Quincy Housing Authority said the biggest issue as a publicly funded housing authority is finding landlords willing to work with the QHA and finding units that are capable of passing QHA inspections.
"Probably close to 20 percent of the people that we put vouchers in the hands of are unable to lease in the Quincy community because of an inability to find suitable units," Gille said. "I ask you to consider passing anything that will help us provide better housing to the very vulnerable at-risk populations in your wards."
Carol Nichols, 1017 Abbey Ridge, said a five percent sample of investigations from the city's estimated 6,000 housing units could provide information for grant applications and economic development.
Lana Huber, 612 Einhaus Lane, told of a woman previously living in substandard housing at locations on North Fourth and North Eighth. Huber said the woman's daughter fell through a bathroom floor and still has scars from that injury, and another daughter fell through an upstairs bedroom floor.
"I always had the worry of being evicted. We didn't have enough money to rent another place," Huber read from a letter. "I worried a lot about being evicted from horrible living conditions. I had three different landlords, and they all threatened to evict us because I complained."
Police officer Zach Tuley, also a rental property owner, sees many situations that are unsafe and unsuitable for housing. "But the tenants are still paying rent because they have no other choice," he said. "The biggest benefit of this ordinance is the enhanced communication between the property owners and the city."
Jared Welch, public health administrator for the Adams County Health Department, said the city of Hannibal passed a more stringent ordinance than the one Quincy is considering for rental properties.
"I was a landlord at the time, and I was concerned about that ordinance," he said. "I've spoken to landlords in Hannibal who feared that ordinance, fought that ordinance, and not one of them at this point 10 years or so down the road say that ordinance is a bad thing. They cite things such as more responsible renters, higher property values, higher resale potential."
Janet Conover, 201 East Avenue, is a member of the Safe and Livable Housing Committee that reviewed four types of housing ordinances from about 25 cities. She said the registration ordinance presented to the city is the easiest for the landlord and the least restrictive. She proposed that the city offer tenant workshops to discuss topics such as housekeeping skills, food preparation, how to balance a checkbook and paying rent on time.
"Will such workshops solve this complex and difficult problem?" Conover asked. "No. But it is planting the seed. It is a place to start, and for some, that seed will take hold and new habits will be formed."
Only 7th Ward alderman Jack Holtschlag voted against tabling discussion of the ordinance.
"Why are we kicking the can down the road?" he said. "We're all here. We need to have it settled right now. I would support it. I would support something even stricter."
John Mast, 5th Ward alderman and a rental property owner as well, thought the ordinance merited more discussion.
"I'm certainly glad that the mayor proposed tabling it, and I want to get together with the committee members who were here tonight, and with some landlords, and really hash this out," he said. "We made great progress. There were a lot of good speakers. There was good discussion. There's an opportunity to get even more people involved. So let's get to the table and really figure this out."
Miss Clipping Out Stories to Save for Later?
Click the Purchase Story button below to order a print of this story. We will print it for you on matte photo paper to keep forever.