Retrial of Mendon man ends with guilty verdict in 2018 beating death of inmate; life in prison possible at January sentencing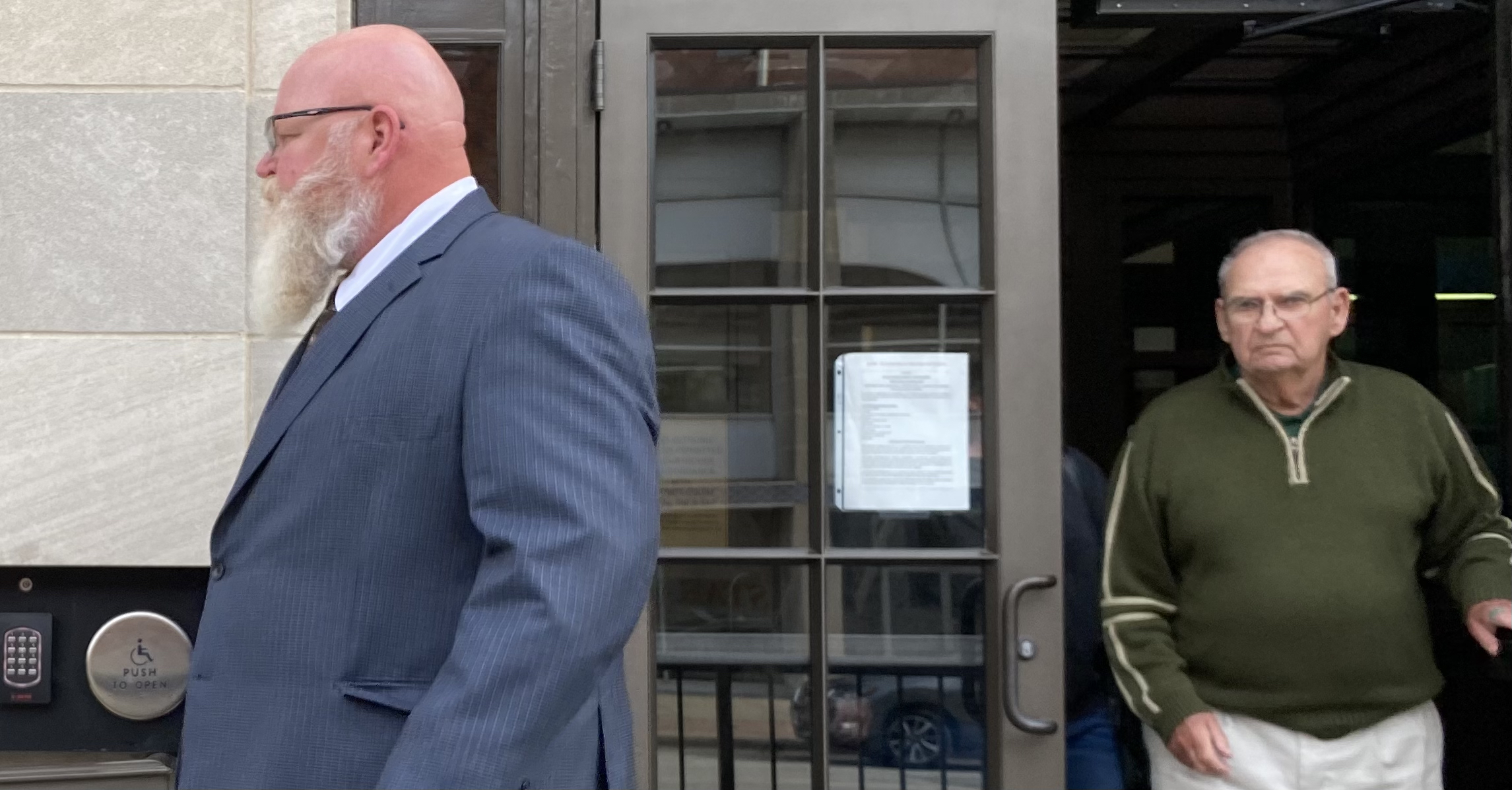 SPRINGFIELD, Ill. — A jury of six women and six men deliberated for about three hours on Tuesday afternoon before finding a former lieutenant at the Western Illinois Correctional Center in Mount Sterling guilty on five counts in connection with the 2018 death of a 65-year-old inmate.
Todd Sheffler, 54, of Mendon was stoic as he listened to Judge Sue Myerscough read the verdicts in a courtroom inside the U.S. District Courthouse in the Paul Findley Federal Building in downtown Springfield. Two United States Marshals escorted Sheffler from the courtroom and took him to the Sangamon County Jail. He now could face life in prison.
Sheffler was re-tried after a different jury failed to reach a verdict in April. Jurors then said a 9-3 vote that favored convicting Sheffler divided the jury. That jury, however, convicted another corrections officer — Alex Banta, 31, of Quincy — on similar charges. A third corrections officer, Sgt. Willie Hedden, 43, of Mount Sterling, pled guilty in March 2021.
The jury convicted Sheffler of conspiracy to deprive the civil rights of inmate Larry Earvin, deprivation of civil rights, conspiracy to engage in misleading conduct, falsification of a document and misleading conduct.
Banta is scheduled to be sentenced on Sept. 20. Hedden is scheduled to be sentenced on Oct. 21. Sheffler is scheduled to be sentenced on Jan. 6.
Three jurors said it didn't take long to reach a verdict after hearing three weeks of testimony.
"There was overwhelming evidence that (Earvin) was beaten and that Sheffler was in the room where it happened, whether he did anything or not," juror Patricia Finnigan of Atlanta, Ill., told John O'Connor of the Associated Press. "He could have stopped it. He was a supervisor. So there was no question."
"We decided to go through the charges and talk about (Sheffler) individually," juror Jerome Brooks of Springfield said. "To be quite honest, I think everybody was convinced already, but there were those who felt like … OK, you've gotta walk through (the process). You've gotta be fair."
Asked if he was surprised that it took only three hours for the 12 jurors to reach a decision, juror Melvin Sharp of Springfield said, "In a way, yes. In a way, no. For myself, after hearing all the evidence and looking at what we looked at, that's how I made my decision. I'm pretty sure that's how everybody else made their decision. We all sat in there and just discussed it. That's what we came up with."
Earvin, who was eligible for parole in four months, allegedly became belligerent when a guard ordered him to return to his cell in his D-Wing housing unit. A Code 1 "officer-in-distress" call led to dozens of guards reporting to Earvin's housing unit. Hedden led the group that escorted Earvin to the segregation unit, with Banta assisting Earvin on his right. Sheffler joined the group on its way to the unit and took over for an officer, assisting Earvin on his left.
Defense attorney Sara Vig tried to convince the jury that punches and kicks Earvin sustained in the housing unit could have caused his death. However, Finnigan said she was unconvinced.
"All the evidence that nobody saw him with any injuries before he got to segregation was the main (thing)," she told O'Connor.
Security footage showed Earvin walking on his own into the vestibule of the segregation unit, where there were no cameras. Minutes later, Earvin was carried to the segregation cage, nearly unresponsive, bleeding from the head and vomiting.
Several WICC employees — Hedden, Shawn Volk, Brett Hendricks, Matt Lindsey, Derek Hasten and Blake Haubrich — testified that the trio kicked, punched and stomped on Earvin. The most damaging blow was when Banta jumped and landed on the right side of Earvin's torso with his knees.
Earvin was transported that night to Culbertson Memorial Hospital in Rushville, then airlifted to a trauma center at St. John's Hospital in Springfield. He died five weeks later. His autopsy revealed 15 rib fractures, a torn aorta and abdominal injuries so severe that a portion of his bowel was surgically removed.
A ruling by Myerscough in June led to the availability of information for this trial that was unavailable in the April trial.
Nine months after the assault and during a grand jury investigation, FBI Special Agent Price McCarty interviewed Sheffler on Feb. 26, 2019. Sheffler denied any knowledge of or participation in any assault of Earvin and denied knowledge of any injuries to him. Sheffler was shown a copy of his incident report and asked if it needed to be updated. He said no.
The U.S. Government then interviewed Sheffler on March 4-5, 2019, as part of a "proffer" agreement requested by Sheffler and his co-counsel, William Vig. The agreement provided that the government extended consideration to Sheffler by providing him with conditional direct use immunity and agreeing to inform the court of the nature of his cooperation and to consider a sentencing recommendation.
The terms of the proffer agreement provided in part that "the government agrees that no statement made or information provided pursuant to this agreement may be used directly as evidence against your client in a criminal case." However, the agreement also provided that any breach by Sheffler "will void this agreement in its entirety and will release the government from any obligation under this agreement."
During the proffer interviews, Sheffler admitted he had been untruthful in his incident report and during an interview with the Illinois State Police. He said that, through his peripheral vision, he saw Banta jump in the segregation vestibule and land on Earvin. Sheffler also acknowledged he should have reported Banta in his incident report. He admitted he should have told the ISP about that same information.
The government claims Sheffler made many other false and misleading statements to the FBI and omitted entirely other statements he was obligated to provide under the proffer agreement. Examples cited were that Sheffler:
Repeatedly denied any involvement in the assault and repeatedly stating he did not lay a hand on Earvin;
Failed to provide complete and truthful information concerning his knowledge of and participation in the assault of Earvin;
Said Earvin slid from his hold and that he let Earvin go to the ground.
Denied knowledge of any other officer involved in the escort of Earvin other than Banta;
Denied knowledge of injuries to Earvin before transferring custody of him to segregation staff;
Denied contacting Banta after Banta had contacted Sheffler through a Facebook message;
Failed to disclose he had called Banta on May 17 after the assault, attempted to contact Banta on May 18 following his ISP interview and called Banta a second time on May 19 the morning after the ISP interview.
Sheffler also agreed to a polygraph examination on May 23, 2019. The government said Sheffler again made false, incomplete and minimizing statements and omitted other statements he was required to provide under the terms of the proffer agreement.
Meyercough ruled June 23 that Sheffler breached the proffer agreement and allowed the government to introduce Sheffler's post-proffer statements at the second trial.
In his closing argument, assistant U.S. Attorney Eugene Miller commented on what he said were "repeated references" during opening statements by the defense to the "long, cold, sometimes cruel arm of the government."
"Perhaps that was the defendant's appeal to anti-government sentiment or an attack on the FBI or the Department of Justice," Miller said. "But it's an interesting reference for the defendant to make in this case, because that's why we have the Bill of Rights, and especially the Eighth Amendment prohibiting against cruel and unusual punishment as protection against the 'long, cruel arm of the government.'
"Unfortunately, in this case, it was the defendant, an employee of the state of Illinois, who was the long, cruel arm of the government violating his oath and training in violating the United States Constitution. Allowing, participating in and covering up the brutal beating of a 65-year-old man, defenseless on a cold, hard concrete floor while he was handcuffed behind his back, leading to great pain and his eventual death. That is the long, cold, cruel arm of the government."
Sara Vig, co-counsel for Sheffler, asked jurors, "How did (the prosecution) get it so wrong?"
She referred to phone calls from WICC inmates who were calling out the beating Earvin suffered in the D-Wing, as well as testimony from WICC employees who saw that beating.
"(The prosecution wants) to say my client, a 50-year-old overweight man who weighs 300 pounds with bad hips, ran to join this escort so he could beat Larry Earvin," Sara Vig said. "That's their theory of the case. Does that make any sense?"
She claimed Sheffler's back was turned during the beating in the segregation unit and pointed out that the stories of all the WICC employees who testified were different.
"Not maybe. Not could have been. Not might have been," Vig told jurors. "You can't guess a man into a conviction."
Assistant U.S. Attorney Timothy Bass wrapped up the closing arguments by saying, "It is time to for Todd Sheffler to be held accountable for his choices, for his choice to participate in and failure to intervene to prevent that brutal assault, and his choice to participate in a conspiracy to cover all that depravity up."
Bass declined to comment afterward. William Vig told O'Connor he was "obviously very disappointed in the outcome and the (relatively short) time the jury took with the case."
Sara Vig declined to make an official comment, explaining they could still appeal the decision. As she spoke to the media outside the courthouse, Sheffler's father, Larry Sheffler, was walking with his wife, Marge, toward a nearby parking garage but reversed course and approached the media.
"Give them something to read," Larry Sheffler said. "This is a coverup sonuvabitchin' deal."
When asked who was doing the covering up, Larry Sheffler replied, "I'd start off myself, personally, if I was doing it, I'd start out right with the top dog (the warden)."
Cameron Watson was the Western Illinois Correctional Center warden at the time of Earvin's beating. He left the position in January 2020. Brittany Greene now is the WICC warden.
Asked if he thought the warden hung his son out to dry, Larry Sheffler said, "I think he was left alone to be the (scape) goat."
Miss Clipping Out Stories to Save for Later?
Click the Purchase Story button below to order a print of this story. We will print it for you on matte photo paper to keep forever.