Schnack tells Illinois Courts Commission losing Adrian would be 'tragic' and set Adams County back significantly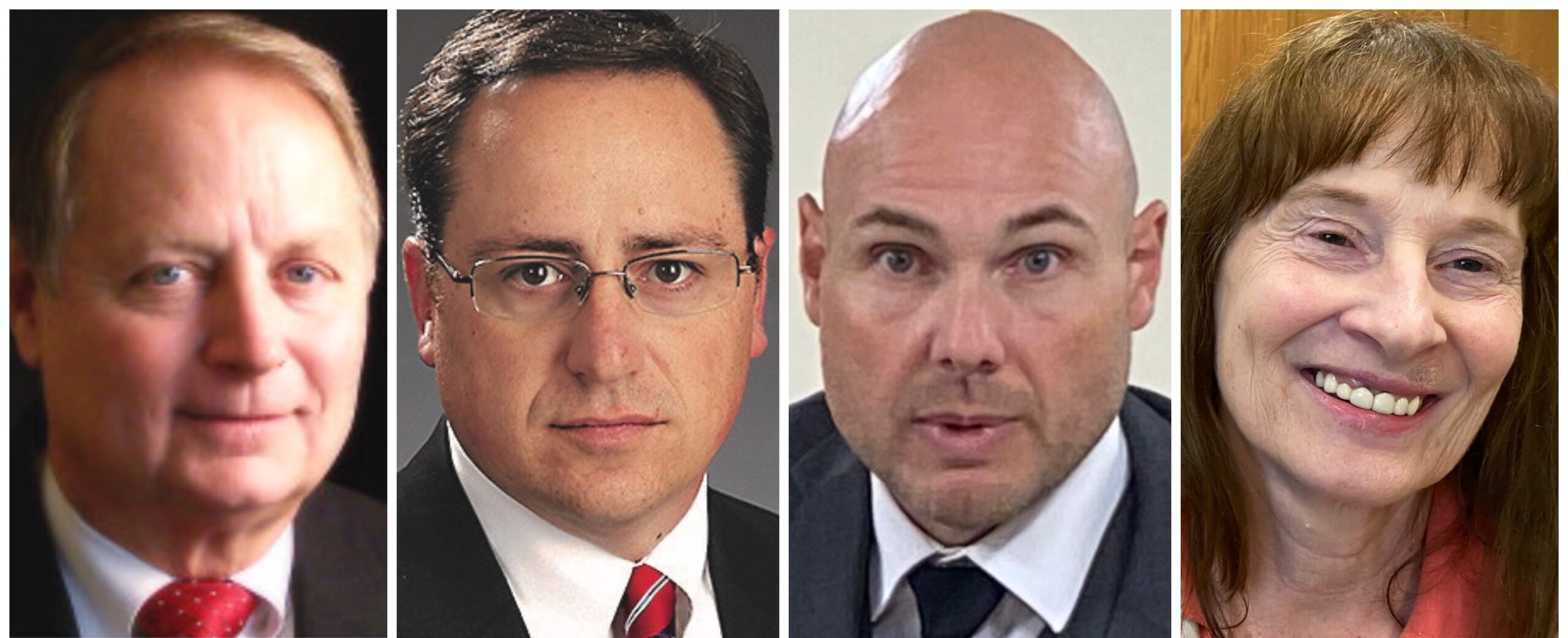 CHICAGO — When testifying to the Illinois Courts Commission about Eighth District Judge Robert Adrian's experience and knowledge in the 13 years he's been on the bench in Adams County, Quincy attorney Drew Schnack took the opportunity to make a pitch to the seven commissioners.
"It would be tragic to lose Judge Adrian," Schnack said Wednesday morning during Adrian's hearing in the Bilandic Building. "It would set (Adams County) back significantly."
Adrian found Drew Clinton, 18, guilty of felony criminal sexual assault following a three-day bench trial in October 2021. Then, on Jan. 3, 2022, Adrian vacated Clinton's conviction, resulting in Clinton being released from the Adams County Jail.
The Illinois Judicial Inquiry Board filed a complaint on June 17, 2022, against Adrian. The board determines if a complaint made against an active Illinois court judge should be closed or investigated, and whether a reasonable basis exists to file a public complaint against a judge with the Courts Commission.
The Illinois Courts Commission has heard 28 cases since 2005. Three judges were suspended, with the lengths of the suspensions ranging from four months to 60 days. Three judges were removed from office.
Schnack, who has been practicing law in Adams County since 1974, called Adrian "an excellent judge."
"Quite frankly, when he took the bench, I didn't feel he had a lot of experience in matters that I would be practicing," Schnack said. "He's turned into a very, very good judge. He is aware of the law governing the case. He knows the issues. He treats everybody fairly. He is thorough and very business-like. He treats everybody very well until you don't deserve to be treated well anymore. He takes control of his court, and he doesn't allow a lot of shenanigans."
Schnack, who was Clinton's attorney, explained to the commissioners the case wasn't particularly significant, but when media reports of Adrian's reversal of the guilty verdict surfaced, everything "exploded."
"A media circus would be the best way to describe it," Schnack said. "The media literally brought my office to a standstill, to the point where when they started calling, I told them to go to look at a statement I made on Muddy River News, and that would answer all their questions. We literally didn't have time to take their calls and return them. Everybody from the Washington Post to the New York Times to the television media from Los Angeles and Dr. Phil, it was ridiculous. It was everybody but the National Enquirer."
Schnack also said he believed the facts of the case supported Adrian's reversal. He said the victim had Clinton's DNA on her because Clinton had given her his sweatshirt earlier during a graduation party on the night of the alleged sexual assault. He also said there was no semen discovered.
"I can't stress that enough," he said. "Anybody who thought Drew Clinton was guilty had to believe that three DNA experts, using state-of-the-art technology, were wrong. You'd have to believe that an 18-year-old boy had unprotected sex with a 16-year-old girl and not leave any semen. That defies credibility."
Todd Eyler, First Assistant State's Attorney in Adams County, testified first Wednesday. Most of his testimony was about a Oct. 15 meeting in the courthouse parking lot with Adrian during the lunch hour. He said Adrian asked when Adams County State's Attorney Gary Farha would be back that day, and Eyler said he wasn't sure he would come back.
"I need to talk to him," Eyler claimed Adrian said. "You guys have to do something about (then-Assistant State's Attorney Anita Rodriguez) and the way she's handling sex cases."
When Mary McMahon, co-counsel for the Illinois Judiciary Board, asked Eyler what his reaction was, he replied, "Panic."
"I knew the (Clinton) case was pending … and I did not want him to say anything more about it to me because of ex parte communication," Eyler said.
Adrian ruled Clinton was guilty of one count of criminal sexual assault later that day.
The Code of Judicial Conduct in Illinois, Rule 2.9, states a judge shall not initiate, permit, or consider "ex parte" communications or consider other communications made to the judge outside the presence of the parties or their lawyers concerning a pending or impending matter.
"I told (Adrian) I would let Gary know, and I got in my car," Eyler said. "I wanted no part of any more conversation."
Eyler then said after a hearing was cancelled in Adrian's courtroom on Oct. 18, he went to Adrian's chambers to enter an order. When he left, he said he ran into someone on the first floor of the courthouse for a brief conversation.
"Then I see Judge Adrian to my left, walk out of the hallway that services his chambers," Eyler said. "And as he is appearing from that hallway, Drew Schnack was coming down the steps from the second floor. It was simultaneous when they both came into sight. As soon as I see them both, I hear Judge Adrian say to Drew, 'Drew, do you have a minute? I need to talk to you.'
"And Drew says, 'I need to talk to you, too. I can't do it right now. How's 11 or 11:30?' Judge Adrian said, 'That'll be fine. I'll be in my chambers.'"
During cross-examination, Daniel Konicek, Adrian's attorney, asked Eyler if it was uncommon for someone to ask where their boss is. Eyler said it was not. Konicek also asked if Eyler knew what the meeting was about. Eyler said no.
When Schnack testified, he was asked about if he ever met with Adrian on Oct. 18 as Eyler suggested.
"No, that never happened," Schnack said. "The answer is no, unequivocably."
Konicek asked if Schnack ever met with Adrian about the Clinton case after the Oct. 15 verdict was issued. Schnack said he remembered briefly meeting him as he was entering the courthouse.
"It was nothing," he said. "It was two ships passing in the night. He asked me if I had talked to Gary about the Clinton case. I said no and walked away."
When cross-examined by McMahon, Schnack said the meeting couldn't have lasted 10 seconds.
Rodriguez testified she never gave Schnack permission to have conversations with Adrian regarding the Clinton case without her present, and she never told Adrian it would be OK for him to have conversations with Schnack about the case without her present.
Assistant State's Attorney Josh Jones, who Adrian kicked out of his courtroom on Jan. 12, 2022, and said he "couldn't be fair to him after Jones liked a Facebook post, testified about what happened that day. He said he and Eyler were in court that morning for a status hearing on the Natasha McBride case.
"I thought he was talking to somebody else," Jones said when he heard Adrian first tell him to get out. "(Eyler and Jones) looked around the courtroom to see who was causing a problem or what the disturbance was, because that happens from time to time. I looked into the gallery to see who Mr. Jones was and what he was doing."
Once he realized Adrian was talking to him, Jones said he walked out.
"I don't think I even said a word, which I think was surprising to everybody who was in the courtroom," he said. "That's not really my personality. Once I got back to my office, I was incredibly angry. I was very frustrated."
Jones said Adrian called him a few days later to apologize.
"I don't want anybody to be judged based on their reaction on a bad day," Jones said.
Miss Clipping Out Stories to Save for Later?
Click the Purchase Story button below to order a print of this story. We will print it for you on matte photo paper to keep forever.