Wednesday meeting offers chance for city, employers to discuss healthcare insurance issues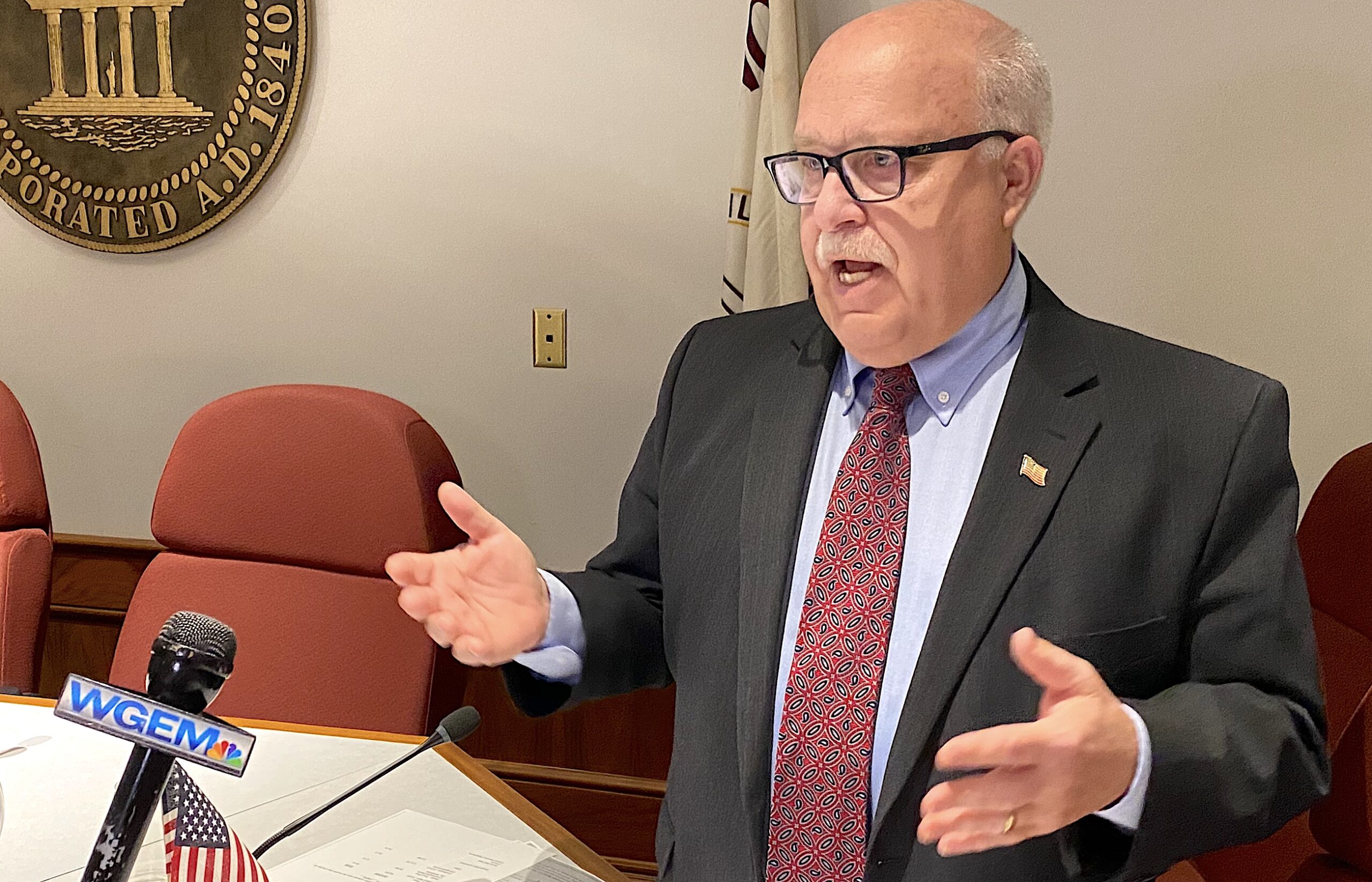 QUINCY — Saying "I've got nothing to hide," Quincy Mayor Mike Troup announced a public meeting at 6:30 p.m. Wednesday in City Council chambers to discuss the healthcare plan for city employees.
The Quincy City Council Meeting of the Whole is being called to present findings on the city's healthcare relations with Coalition Health.
A presentation will be made describing the city's transition from a fully self-insured healthcare plan to the current healthcare plan. Another presentation will be an overview of American Public Life insurance that will include who is covered, who terminated coverage and what options with APL coverage are available.
The city insurance issue was in the spotlight at the Aug. 28 City Council meeting when Patrick Hollensteiner, a Quincy Police Department inspector, told alderman that employees have been lied to about the recent cancellation of secondary insurance. Hollensteiner said aldermen had learned in an email from Troup that the city no longer has insurance through American Public Life, based out of Flowood, Miss. (City employees still have Blue Cross Blue Shield of Illinois for primary insurance.)
Jim Baxter of Coalition Health, who Hollensteiner said canceled the APL insurance, will be in attendance Wednesday.
Troup said city employees can attend, and they will have an opportunity at the end of the meeting to ask questions. Speakers will be limited to three minutes. No action will be taken by aldermen during the meeting.
"My hope is that, by the end of the meeting, the City Council says, 'Gee, let's put Option X on the agenda for discussion and ratification on Monday's meeting,'" Troup said after Tuesday's meeting. "We'll make the presentation, listen to the comments, and then if we can select which option people think is the best one, we will write up the resolution and work on that."
Two resolutions on Tuesday's agenda were tabled by aldermen. One called for a financial review to be be conducted on the funds transferred by the city of Quincy to Coalition. It also asked for Troup to enter into a professional services agreement with an Illinois CPA firm to conduct the financial review.
The second resolution called for the City Council to direct the IT department and any other city departments, officials or personnel to provide emails between Troup and Baxter from Jan. 1, 2022, to Aug. 31, 2023. The emails were to be reviewed by Alderman Mike Farha, R-4, in the presence of city attorneys, Director of Administrative Services Jeff Mays, and IT Director Corey Dean.
However, Farha asked for the resolutions to be tabled.
"I just want to explain to the public. This is not what I asked for," Farha said during Tuesday's meeting. "This is not remotely close. (Troup) and I did talk, and I explained that these two items really present a conflict for you and your employees. … The reason I wanted to do this is because we've increasingly had inconsistencies over the last two years on the question of health insurance, and I am not prepared tonight to make the motion to do this."
Farha said he believes Troup and Baxter have exchanged 739 emails since Jan. 1, 2022. He also wants to see texts and phone calls between the two.
"We should give specific guidance as to … it wouldn't be me, but it would actually be an attorney and a committee … and we need to make sure (Troup) understands," Farha said after Tuesday's meeting. "(Troup and Farha) had a productive conversation (last Friday), but apparently (Troup) doesn't understand … if this were a legal investigation, he'd be the one we're looking at, and Jim Baxter.
"There needs to be a committee. I have people in mind. We can talk about it. But (Troup) gets his chance tomorrow to explain."
Farha also said when he asked Troup during the Aug. 28 meeting where a check from APL to city employees for a reimbursement of paid premiums (believed to be $677,000) was sent, Troup replied that it was to a bank in Elmhurst.
"It's not a bank. You can look it up," Farha said.
Farha said he wants to wait until after Wednesday's meeting to take what information is provided before working on refocusing what the resolution for next week's agenda will say.
The Police Benevolent and Protective Association Labor Unit 12 has filed several grievances against the city about insurance issues.
Troup says he's been talking with auditors to learn if they are available to investigate.
"I've got nothing to hide." he said. "I've been asking audit firms, 'How long would it take? What's the cost?' We're still waiting to get proposals back. By deferring (the resolution) for a week, hopefully I'll have an answer (about an audit) and share it at next week's meeting."
Miss Clipping Out Stories to Save for Later?
Click the Purchase Story button below to order a print of this story. We will print it for you on matte photo paper to keep forever.