Yohn kicked out of courtroom, claims he was beaten again, threatens to place Adams County under investigation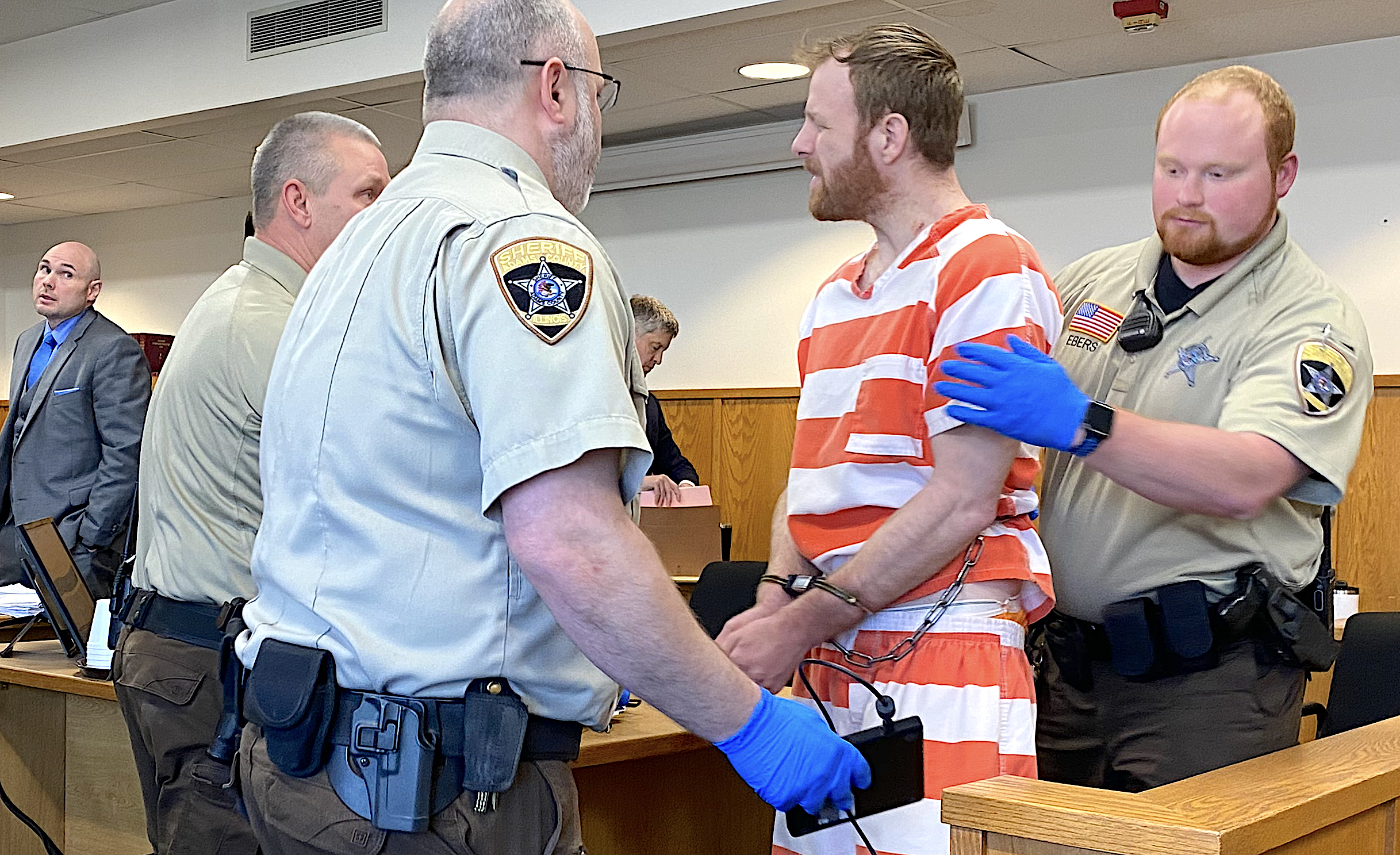 QUINCY — A Wednesday afternoon motion hearing in Adams County Circuit Court didn't go well for Bradley Yohn.
Judge Roger Thomson addressed five motions made by Yohn, who is defending himself pro se in a criminal sexual assault case. One eventually was skipped, three were denied, and Yohn eventually was kicked out of the courtroom as he argued the fifth.
Thomson hoped removing Yohn from the courtroom for 10 minutes and calming him down would allow for the hearing to resume. However, a bailiff eventually learned Yohn was in a "restraining chair" and would not be allowed to return to the courtroom.
Yohn is defending himself against charges of home invasion, aggravated kidnapping, aggravated vehicular hijacking and aggravated criminal sexual assault with a weapon — all Class X felonies. He allegedly committed the crimes on Nov. 9, 2021, at the home of Christina "Tina" Schmitt. Yohn could be sentenced to serve between six and 30 years in the Illinois Department of Corrections if he's found guilty of any Class X felony.
Yohn opened the hearing pleading with Thomson to have the "black box" removed from the handcuffs he was wearing in the courtroom. He explained he went through a trial two weeks earlier (in which he was found guilty of possession of contraband in a penal institution) and did not have to wear handcuffs.
"I had an issue Monday night where my wrist has been tormented already, so I mean it's extremely painful," Yohn said.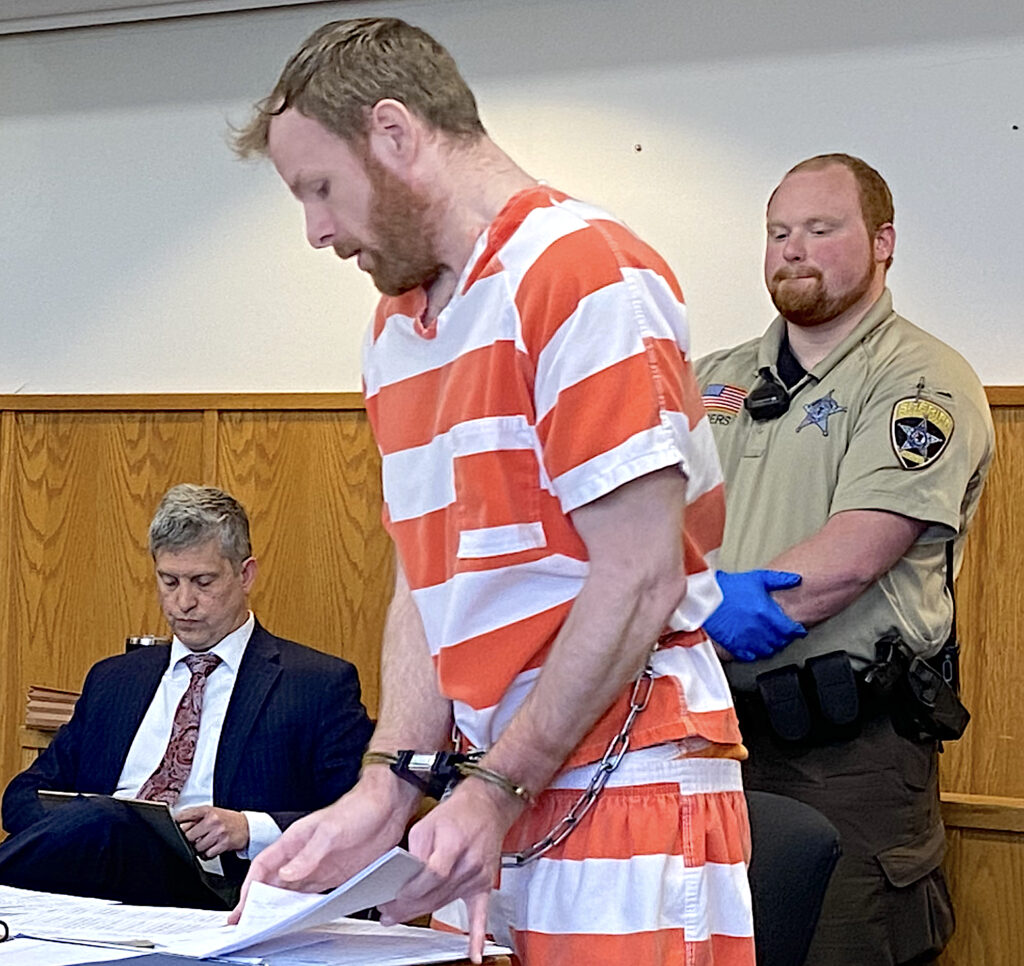 Thomson noted Yohn had been placed in a restraint chair earlier this week. Yohn explained he had received bruises "all over my body from officers of the law," then proceeded to show to people in the courtroom marks on his left arm and his chest as he lifted his shirt.
Thomson told him not to address anybody in the audience.
"Your honor, you're making this extremely hard on me, and it's an intentional tactic," Yohn said, "Why are you being so difficult?"
He later asked Thomson to be "decent and honorable" by having bailiffs remove the handcuffs.
Yohn wanted to use a computer to project items on a screen as part of his motion to obtain funds for a digital forensic expert. However, he struggled to get the computer to operate properly, frustrating him even more.
"It's a display of tampering with evidence," he said. "And I'm going to prove that today, as long as somebody will let me."
Yohn then muttered, "You people don't know what you're doing. You're crooks with this s**t."
Thomson said he would appreciate conducting the rest of the hearing without Yohn's comments.
"I have to comment, your honor," Yohn said. "There's no fairness in this county. Today, I'm going to get that, or I'm going to place this whole county under investigation. I was literally beat on Monday night."
Thomson told Yohn he would pass on the motion for the digital forensic expert until he could get his computer to work. He did the same with Yohn's motion to receive funds for a private investigator.
Thomson then denied a motion to suppress statements from two potential witnesses. One of them was Schmitt's husband, and Yohn said any testimony from him about what his wife told him after the Nov. 9 incident should be considered "hearsay" and "inadmissible." Yohn also wanted written testimony from David Joseph, but Assistant State's Attorney Josh Jones said he didn't have a written statement. Thomson told Yohn he had the right to interview Joseph to find out what his testimony would be.
A motion by Yohn to suppress 14 items from being introduced as evidence in the trial was handled in two ways. Jones told Thomson that seven of the items would not be used as evidence.
Yohn claimed two hedge trimmers, a chain saw, a leaf blower and several pieces of jewelry were seized during an illegal search by the Springfield Police Department. He claimed Adams County had not issued a warrant to obtain those items.
"To be quite honest, (Tina Schmitt) didn't operate with petty fake jewelry," Yohn said. "It's all costume jewelry. That's what these items were. I'm not so sure she had a pair of pendant handcuffs in her home. They were toys. I know her a little bit better than that, your honor."
Jones pointed out to Thomson that a search warrant had been issued. He also said Yohn had made a similar motion on Dec. 5 about the inadmissibility of these items, and Thomson ruled on Dec. 14 to deny the motion. Yohn then said Jones had perjured himself, again claiming no warrant for those items existed.
Thomson ruled Yohn had no basis to suppress the other items.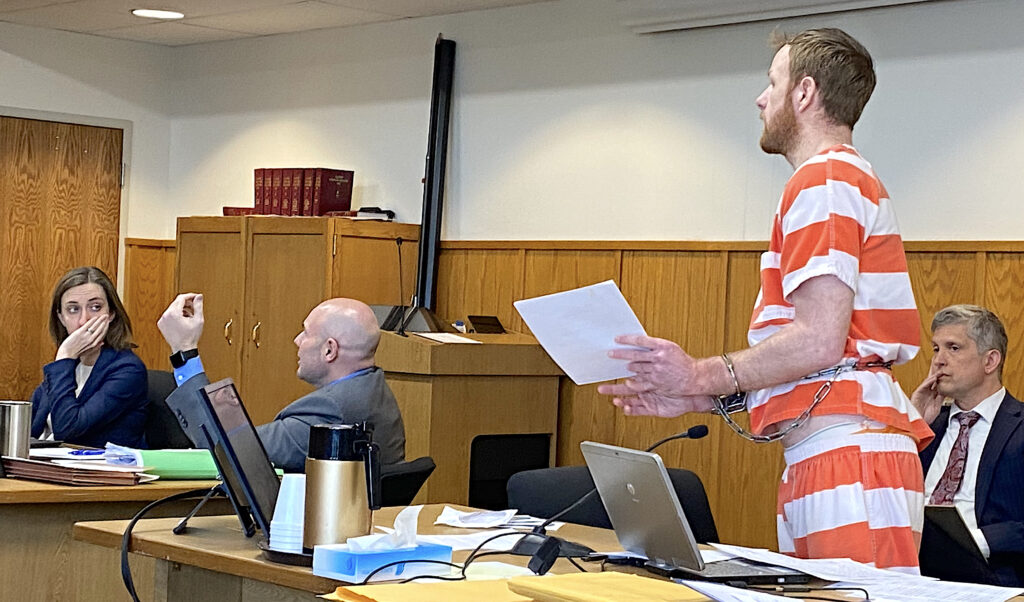 Thomson then addressed Yohn's motion to revise the parameters of Chief Public Defender Todd Nelson's role as standby counsel. Yohn referred to a case, McCaskill v. Wiggins, in which he said a standby counsel can assist a pro se defendant with more than just gathering information.
"I don't even understand why Mr. Nelson would set parameters," Yohn said. "It's almost as if he wants to do less work. I don't quite understand that. If he was really wanting to help me, then he would probably not set a parameter."
Yohn had filed a previous motion to dismiss Nelson as standby counsel but dropped it at an April 13 motion hearing.
When Thomson asked what Yohn wanted Nelson to help with, Yohn replied, "I need somebody who will come and talk to me and teach me some things and guide me through a few things that I don't have access to. … like potentially objecting witnesses cross examining witnesses that I cannot cross examine."
Thomson then referred to People v. Redd, an Illinois Supreme Court case which says the right of self-representation does not carry with it a corresponding right to legal assistance.
"One choosing to represent himself must be prepared to do just that," Thomson said.
Thomson then gave Yohn three options: To represent himself with standby counsel, to represent himself without standby counsel or to have an attorney appointed.
"I will not take an attorney, your honor, unless your appointment is of a hired attorney outside of this town," Yohn replied.
Thomson said he would have to find that the Adams County Public Defender's Office is conflicted and unable to represent Yohn, "and I don't have evidence to make that claim."
"I'd like your choice, Mr. Yohn," Thomson asked.
"McCaskill v. Wiggins. That's my choice," Yohn said.
"I don't know what you're referring to. I'll give you a chance to respond again," Thomson said.
"I would cite McCaskill v. Wiggins," Yohn said.
"I've read the case, Mr. Yohn," Thomson said. "What is your choice?"
"Your honor, in a case complex such as this …" Yohn replied.
"Mr. Yohn, what is your choice?" Thomson persisted.
"My choice is for you to hear me out as I'm entitled to as an attorney," Yohn said.
After more back-and-forth, Thomson again asked for Yohn's choice.
"My choice is to argue my motion," Yohn said.
"I'm determining your motion and ruling on it now," Thomson said. "What's your choice?"
"You do what you want, Mr. Biased Man," Yohn said.
Thomson ended the hearing, and Yohn was escorted from the courtroom, yelling curse words at bailiffs and others in the courtroom.
The next hearing in the case is set for June 7. A trial is set to begin July 10.
Miss Clipping Out Stories to Save for Later?
Click the Purchase Story button below to order a print of this story. We will print it for you on matte photo paper to keep forever.