'He most certainly will never touch another child ever again': Johnson given sentence of natural life in sexual assault case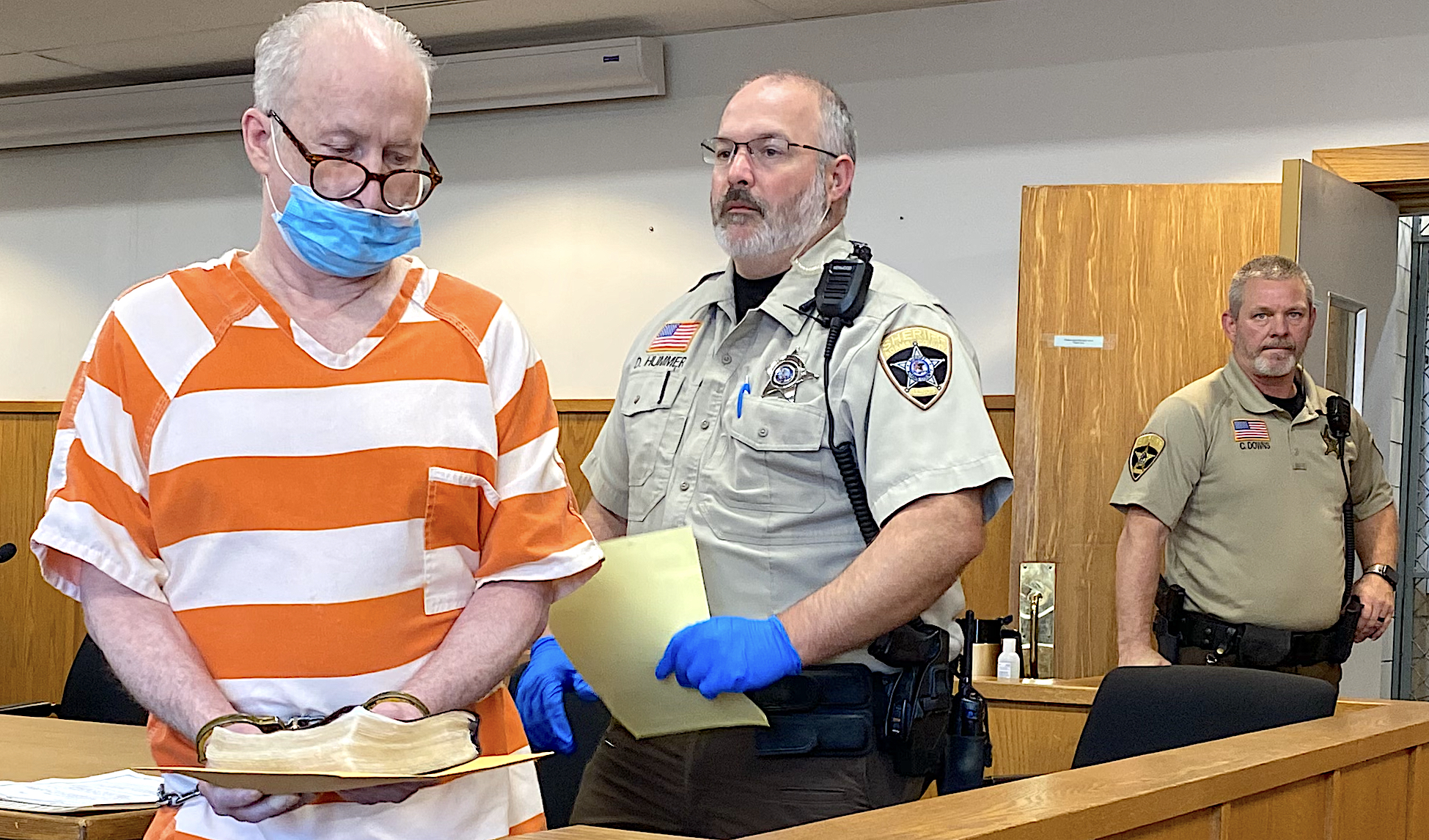 PLEASE READ THIS CAUTIONARY NOTE: Readers should understand this story contains descriptions of sexual abuse. This may offend and shock some readers or be painful to survivors of sexual abuse or assault. Muddy River News believes it is necessary to report this information as a warning and a reminder of what comprises sexual abuse and the importance of protecting children and supporting those who have suffered abuse. The names of the children and their parents involved in this case are being withheld to help protect the identity of the children. Quoted material is from the court proceedings.
QUINCY — Leonard Johnson received a sentence of life in prison on Thursday afternoon after forgiving the judge, prosecutors and witnesses who helped convict him.
Johnson, 64, appeared before Judge Tad Brenner for a sentencing hearing in Adams County Circuit Court. An Adams County jury found the gymnastics coach from Rochester, Minn., was guilty of four counts of predatory sexual assault of two children under the age of 13 during a trial in January. One victim, a 10-year-old girl, told the jury she and her stepsister spent a night with their great uncle in a Quincy hotel in May 2020 and they touched his genitals with their mouths and hands.
Brenner was required to sentence Johnson to spend the rest of his life in the Illinois Department of Corrections because of a state statute that reads, "A person who has attained the age of 18 years at the time of the commission of the offense and is convicted of predatory criminal sexual assault of a child committed against two or more persons, regardless of whether the offenses occurred as a result of the same act or several related or unrelated acts, shall be sentenced to a term of natural life in prison."
"He will never see another child," Brenner said. "He will never speak to another child, and he most certainly will never touch another child ever again."
Johnson gave a 26-minute statement of allocution, reading several Biblical passages and making multiple references to his beliefs as a member of the Church of the Brethren to explain his innocence. He claimed his voice was "constantly blocked, cut off, interrupted and not allowed to be heard" during the trial.
"With humility and all due respect, the witnesses for nearly three years have been allowed to say all kinds of things malicious, untrue and hurtful things," he said. "While it has been told to me that character witnesses are not allowed for me or against others, understanding is beyond me since my character, reputation and name have been wrongly assassinated by those who maligned me."
Johnson didn't raise his hand to take an oath before testifying in his trial due to his religious beliefs. He explained it was because the Bible says raising a hand is paying homage or worship to a person or an idol. "The Bible actually shows where hands lifted is to be only to God," he said.
He completed his statement for forgiving Judge Amy Lannerd for her treatment of him during his Aug. 2022 arraignment.
"I felt I was prejudged because I am a male versus a female," he said. "I also extend my forgiveness of the prosecutors. They weren't as interested in the uncompromising truth and facts as they were to get the conviction. I then forgive the girls and (their mother) for the wrongs that they have done to me. I look forward to one day when the real truth, the uncompromising whole truth, will prevail."
The prosecution provided no victim impact statements.
Johnson was represented during Thursday's hearing by Public Defender John Citro. Johnson sent a 72-page letter to Brenner that was filed in the circuit clerk's office on Feb. 22, detailing his request for a new trial based on "ineffective assistance of counsel, due to (attorney Drew) Schnack's deficient performance."
Citro filed a post-trial motion that addressed four issues. He claimed:
The verdict was against the "manifest weight" of the evidence, and the defendant was not proven guilty beyond a reasonable doubt.
Four statements, which he believes were hearsay, were allowed in the trial. Citro said two statements were made a month after the alleged incident. "I believe the length of time for the last two statements render them unreliable. Hearsay in and of itself is unreliable to start with," Citro said.
It was inappropriate for the jury to consider comments made during the trial by Assistant State's Attorney Josh Jones about Johnson's unwillingness to take an oath before testifying because of his religious beliefs.
Brenner erred in allowing Leonard to file a pro se motion to dismiss Schnack as his trial counsel.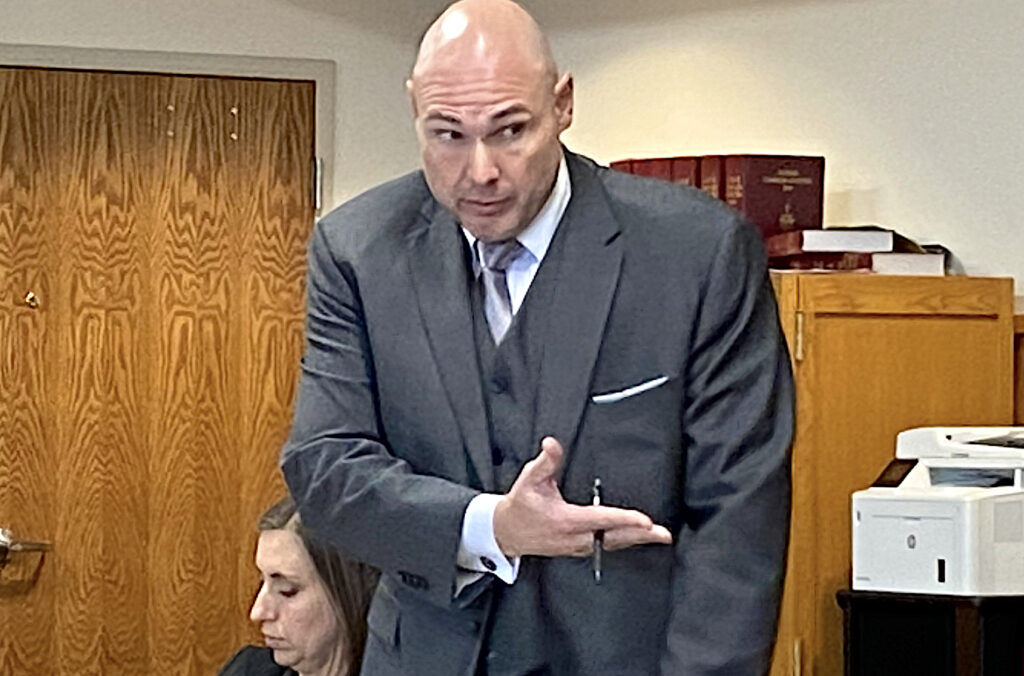 Jones disagreed with each point raised by Citro.
"We had one victim use an anatomically correct doll on video and show what she saw (her stepsister do to Johnson in a Quincy hotel room)," he said. "That was one of the more chilling things that I have ever seen in my 22 years as an attorney. The court had a chance to see that. Against the manifest weight of the evidence? Your honor, the evidence in this case was clear what this defendant did."
Jones said Lannerd, who ruled to allow the statements Citro claimed were hearsay, "carefully considered" the statements and found that "certain standards" were met. Jones said Johnson's refusal to take the oath was his choice, "and I have every right to comment on that, especially when two young girls took an oath to tell the truth without hesitation."
Jones also said he hears all the time that defendants have a right to counsel of their choosing.
"But now, all of a sudden, well, you can't grant that, your honor," Jones said. "Frankly, that's ridiculous. This is the definition of 'heads I win, tails you lose.'"
Brenner denied Citro's post-trial motion in its entirety.
Assistant State's Attorney Laura Keck said in her argument there wasn't much to be said because of the automatic life sentence. She retold testimony about Johnson giving the girls gifts, taking them on trips for ice cream and taking them to a hotel with a pool, as well as a hot tub in their room.
"But instead, Mr. Johnson was forcing them to do all kinds of sexual acts that nobody should be forced to do, much less a 6- and 7-year-old," Keck said. "What I will never forget in my years as a prosecutor was the fact that (the older girl) kept saying in her interview, 'It's not his fault. It's our fault.' That's how much the defendant had brainwashed her.
"People often ask, 'Why do you do this job?' Some days I wonder. I really do. But we do this job because these girls were so incredibly brave. If they do that, and we can help them do that and help them get justice and help it so that the defendant never does that to somebody else again, that's why we do this job."
Miss Clipping Out Stories to Save for Later?
Click the Purchase Story button below to order a print of this story. We will print it for you on matte photo paper to keep forever.