New mayor forms ad hoc committee to assist in search for Canton police chief; Lewis County Sheriff's Department providing security for now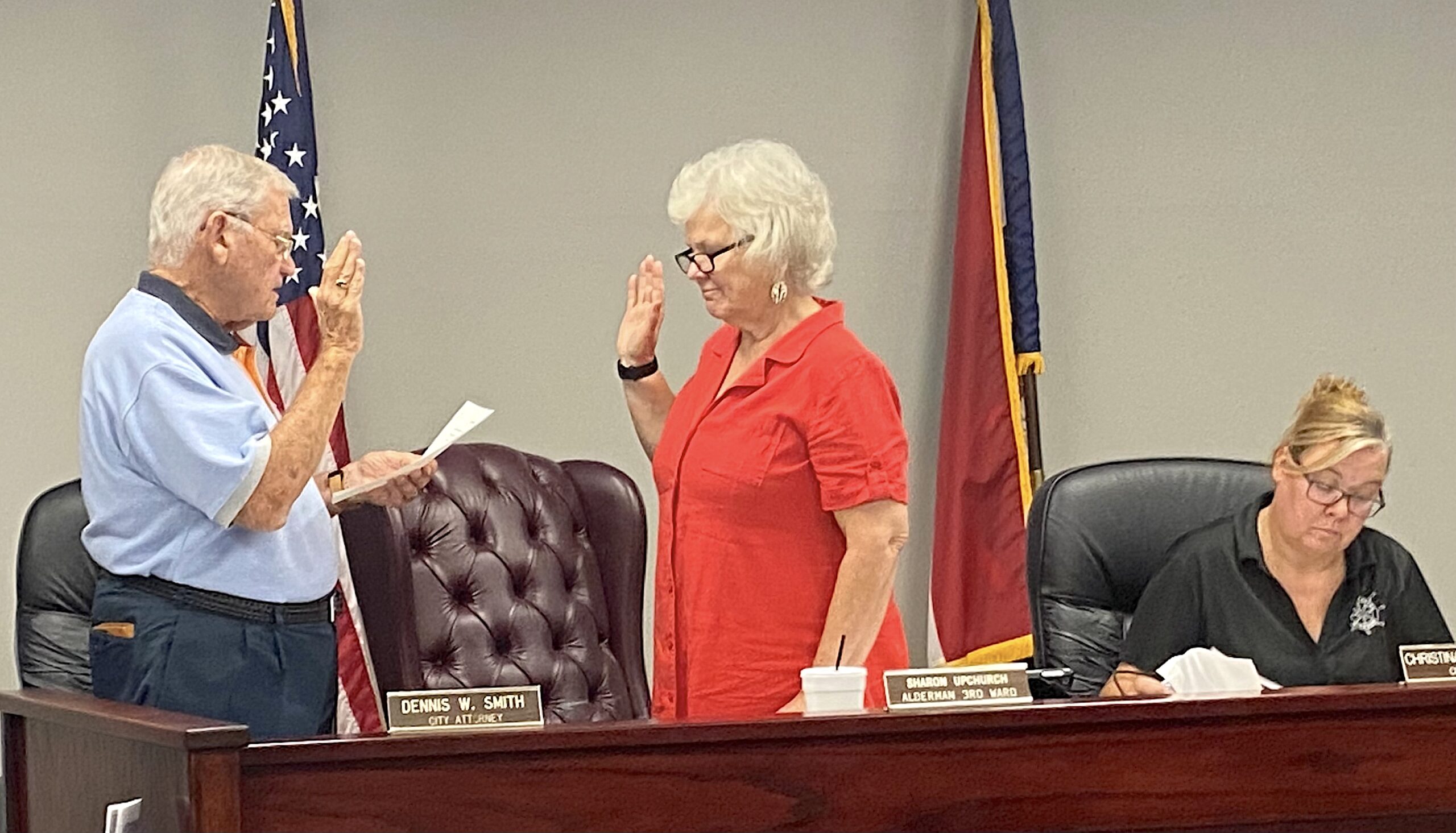 CANTON, Mo. — The newly appointed mayor of Canton has appointed a five-person citizen's advisory ad hoc committee to help with the search for a police chief.
Well, the committee is actually searching for an entire police department.
Sharon Upchurch, the city's mayor pro tem for the past two weeks, was sworn in as the city's mayor by City Attorney Dennis Smith before the start of Monday's meeting of the Canton City Council. She replaces Jarrod Phillips, who resigned Aug. 4 after serving as mayor since 2011. The city will have a mayoral election in April 2024.
"There are people who want the job (of mayor), but for continuity and for the confidentiality that we're dealing with right now, and those kinds of things, I took it for now," Upchurch said. "I'm the only retired person on this board. I'm 75 but I think I have the help to get through the next few months. I'd really like to get back to that chair (pointing to the chair filled by the Third Ward alderman)."
After Patti Mathieson was named mayor pro tem and a search for Upchurch's replacement in the Third Ward was unsuccessful, the new mayor appointed aldermen George Hausdorf and Jeff Janney to the ad hoc committee, as well as W.G. Lewis, director of security at Culver-Stockton College; Doug Martin, owner of Martin's Lock and Key in Canton; and Rev. Mandy Gosik with Canton Christian Church.
"During the town hall meeting (on Aug. 8), there were people who suggested (the ad hoc committee)," Upchurch said. "There were people who suggested it in the middle of the grocery store. People suggested we need something a little more."
Problems inside the Canton Police Department surfaced earlier this month. A recent investigation by the Lewis County Sheriff's Department, the Missouri State Highway Patrol Division of Drug and Crime Control and the Federal Bureau of Investigation discovered hundreds of items of evidence in the possession of the Canton Police Department had been tampered with or stolen, including money, hundreds of pills (controlled and non-controlled substances) and a handgun. Other issues with previous police chiefs and police officers in the past 10 years also were revealed.
The investigation was made public on Aug. 3 by Lewis County Sheriff David Parrish and Lewis County Prosecuting Attorney Chelsea Fellinger.
Several people in the audience asked for other representatives of county law enforcement, including the LaGrange Police Department and the Lewis County Sheriff's Department, to be named the committee as well.
"We have to start working together," said Jim Crenshaw, who was in the audience. "I'm sorry, but people, if we don't work together, we're not going to get anywhere. We're going to end up right back where we were with stuff thrown in our face and mudslinging. I would just ask for that person be included, whether he wants to or not.
"I really believe that we have to include our local law enforcement. We're already in a situation and a pickle now. Do you want to keep digging?"
Former mayor Terry Fretwell backed Crenshaw.
"You're in a serious situation," Fretwell said. "This is something that needs to take some planning. It's time to start working together. You've got this group here and this group there, and nothing is going to be solved until you start working together. I think you need to include them as advisory persons to that group. We have got to start working together, because If we don't, we're going to be right back in the same boat that we've been in before."
"Do these police officers who we invite have to be a member of the committee? It's going to be hard enough to get five of us together all at once," Hausdorf said. "We just let them know when we're meeting, and they can show up if they can."
The City Council eventually voted for only five people to be on the committee. However, invitations to the other law enforcement agencies will be extended to participate in the meetings.
City officials placed Police Chief Justin Allen on administrative leave during a special meeting of the Canton City Council on July 31. After Monday's meeting, Upchurch said Allen was "technically" still on leave. However, the City Council briefly met in closed session on Monday on personnel issues. Upchurch said an advertisement for a new police chief would be posted online Wednesday.
Officers Toby Moss, Abigail Lyon and Dylan Ferreira have all left their jobs with the Canton Police Department in the past month to take other positions in law enforcement. The Lewis County Sheriff's Department is providing law enforcement for the city for now.
"We still have 911," Smith said. "If you call with an emergency, you will have an officer. The response time may be a little longer than it would be otherwise, but we do have protection."
Upchurch said she has a self-imposed deadline of three months to find a police chief.
"I haven't said that to anybody, but that's my goal," she said after Monday's meeting. "I'd like to do it faster than that, but I'll be thrilled if we can get it done by then."
Upchurch also told aldermen the three officers who recently left the police department signed contracts — one in August 2022, the other two in December 2022 — when they were hired that included a clause saying the city of Canton would pay for their police academy training. However, they had to remain with the police department for 42 months, or they would have to pay back the training funds.
"They were interviewed by this council, and before they were selected, they did sign the documents," Upchurch said. "They were handed the documents and told to take them to a lawyer when they get home. Think about it. Make sure that's what they wanted to do. All three of them signed the documents.
"When we started to have issues with our police chief, they opted to leave."
Upchurch says the three officers owe the city nearly $17,000 combined. She said the officers asked during a meeting on Aug. 15 if the city would forgive the loans.
Some people in attendance wanted to give the officers a break, saying they "didn't know the situation they were stepping into" and "maybe that wasn't the fairest thing for them." Others believed Allen failed to provide the young officers proper leadership.
However, the City Council voted to hold the three officers responsible for paying back the money. Upchurch said all three took jobs which provided them larger salaries.
"They chose to leave here on their own accord," Hausdorf said. "We did not push them out the door. We would have loved for them to stay here. We are going to rebuild the police department. There's no doubt in my mind that's the direction we're going to go. They could have been here on the ground floor of that. We offered them that opportunity more than once, and they chose to leave."
Miss Clipping Out Stories to Save for Later?
Click the Purchase Story button below to order a print of this story. We will print it for you on matte photo paper to keep forever.